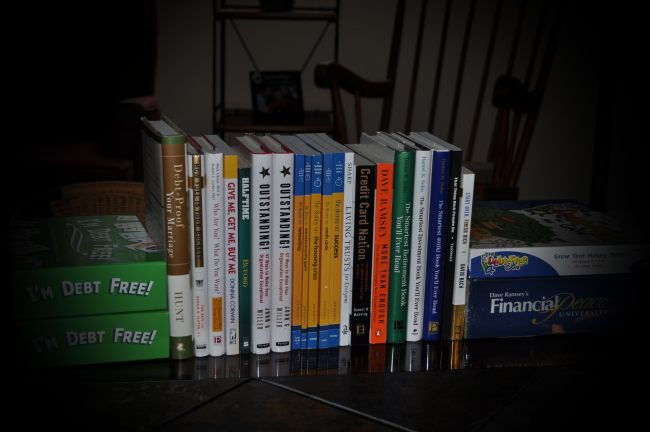 Hello everyone! Today's post is ALL about you!
Last month on April 5th, Enemy of Debt reached a three year milestone. On that day, I started this blog with Hitting a Home Run and Becoming Debt Free Are the Same. Each year I have been blessed with the privilege of getting to know some really terrific people! I have enjoyed checking my inbox each and everyday to confirm that what I am doing is making a difference.
Those emails really do keep me going and I have all of you to thank for it. Whether you actively comment or just read my articles quietly behind the scenes, I appreciate each and everyone of you dearly. I hope that what I write about resonates with you and gets the wheels turning for greater things.
Although I am celebrating my 3 year anniversary on Enemy of Debt, this celebration is really more about you than me. I enjoy sharing my opinions on debt and personal finance and challenging you to think outside of the box.
So in honor of all of you, I have decided to do a special giveaway.
I am giving away SEVEN BUNDLES! (not in specific order)

Bundle #1
Financial Peace University Membership Kit
More Than Enough – Dave Ramsey
The "I'm Debt Free" Game
Bundle #2
The Skinny On Series by Jim Randel
The Skinny On Success
The Skinny On Credit Cards
The Skinny On The Housing Crisis
The Skinny on Real Estate Investing (Pt 1)
The Skinny on Networking
The Skinny on Time Management
Bundle #3
The Smartest 401K Book You'll Ever Read by Daniel Solin
The Smartest Investment Book You'll Ever Read by Daniel Solin
The Smartest Retirement Book You'll Ever Read by Daniel Solin
Bundle #4
Outstanding by John G. Miller
How Full Is Your Bucket? Positive Strategies for Work and Life by Tom Rath
Who Are You? What Do You Want? Four Questions That Will Change Your Life by Mick Ukleja
Bundle #5
Give Me, get Me, Buy Me by Donna G. Corwin
Start Over Finish Rich by David Bach
Credit Card Nation by Robert D. Manning
Bundle #6
Half Time by Bob Buford
Living trusts for Everyone by Ronald Farrington Sharp
Outstanding by John G. Miller
That Thing Rich People Do by Kaye A. Thomas
Bundle #7
The Debt Free Game
The "I'm Debt Free" Game
Debt Proof Your Marriage by Mary Hunt
There you have it.
Editor's Note – I forgot to change the format before I published this post but because of shipping costs, I decided to break up this giveaway into weeks. Each week I'll pick two winners and ship two bundles. The fourth and final week will be the drawing for the Financial Peace University Membership Kit, the game and the Dave Ramsey book.

The first prize giveaway winners will be selected on May 9th. (2 winners)
The second prize giveaway winners will be selected on May 16th. (2 winners)
The third prize giveaway winners will be selected on May 23rd. (2 winners)
The final WINNER will be selected on May 30th. (1 winner – FPU Membership Kit Bundle!)
Here's what you have to do to enter.
Enter to Win
As always, you'll have to answer these questions to enter this giveaway. You must complete this to be eligible. (worth one entry)
What has reading Enemy of Debt helped you with the most?

What do you like the most about this site?
Extra Entries
Tweet either of the options below (exactly) to receive 5 extra entries for this giveaway (
"Celebrating 3 years at @enemyofdebt & Brad's doing a reader appreciation #giveaway! Have you entered to win?"
"Brad's giving away an FPU Kit & much more on @enemyofdebt to show his appreciation! Have you entered?"
The last book giveaway I did, the person who won was the only person who had extra entries. Be sure to increase your chances of winning these cool bundles! 😀
Final Note: For those that do not have Twitter accounts but would like to earn extra entries, sharing on your facebook page will work too. Just make sure you use @Enemy of Debt (tag Enemy of Debt in your post so I know who to give credit to. If you don't then I'll have no way of knowing. 🙂
That's it!
And again thank you for three awesome years!!!
WINNERS
Those that do not win will be eligible for the other bundle giveaways so there's no need to enter twice! 😀

May 9th – KZ won bundle #7 & Hannah won bundle #4! Congratulations! Expect an email so I can get information for shipping. 😀
May 16 – Kay Lynn won bundle #6 & Tracy W won bundle #3! Congratulations you two!! 😀
Sorry for the late picks. I had absolutely no internet connection yesterday due to a storm that ruined my day. LOL
May 23 – Caitlin won bundle #5 & Grig won bundle #2. Congratulations! Sorry, Jonha, I wanted to give it to you for being so excited but random.org ultimately chooses the winners.
I wish I could have given EVERY SINGLE one of you something!!
May 30 – FPU KIT bundle