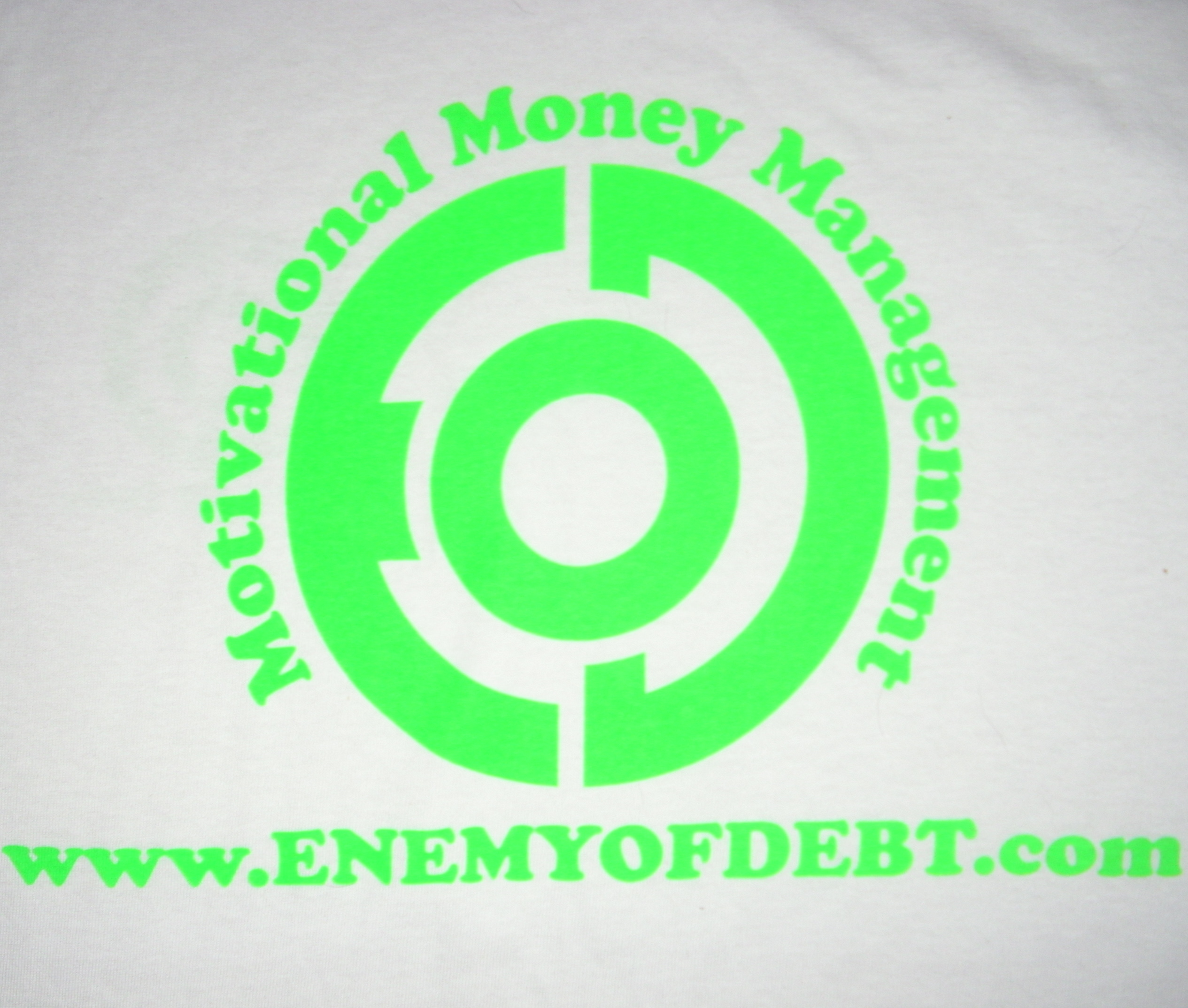 Reader Rewards Program Winners From Last Week
The mission was clear!  I wanted to hear from you about what it was that you wanted to see in the future, as well as your advice on improving EOD.  There was a great response, and I am very pleased to announce that we have lots of winners.  About midweek, I decided to give my friends over at My Total Money Makeover some incentive to join in on the fun.  I offered up 2 Enemy of Debt t-shirts to bring a few over to leave some feedback.  Here's what I am giving away this week to my wonderful readers:
2 Dave Ramsey, "Owe Nothing To Anyone, Except Love" shirts
2 Town Hall For Hope DVD's
2 Enemy of Debt shirts
Here's Who Won:
Sierramoon – Enemy of Debt Shirt
Third2home – Enemy of Debt Shirt
Lisa Stansbury – Owe Nothing To Anyone, But Love Shirt
Christy – Owe Nothing To Anyone, But Love Shirt
Monica – Town Hall For Hope DVD
Chad – Town Hall For Hope DVD
(Some winners were chosen by my 3 year old picking names from a container.  I would like to thank you for providing him with some fun, as he thoroughly enjoys helping out.  I am not kidding, you would have thought he was going to win a GIANT lifetime supply of Gummi worms.)
There were so many great ideas that came from this!  I have lots of work to do, but am confident that I will be able to work in most, if not all of your ideas.  My biggest issue that has bothered me for some time is my site design.  This is a priority for me, however I am NOT a design guy and have to find some help on this one.  I know what I want to do, but I just do not know how to do it.  Please be patient with me as I work through that process.  My navigation bar at the top is a complete mess, as you can tell.
From the looks of my poll about the budget, I noticed a bigger number of people haven't been able to find my budget.  This is probably partially due to the fact that my navigation links have run a muck, so I have added the "sitemap" to the right sidebar until I can get it fixed.  The graphic of the budget nerd holding cash, can also be clicked on to download budget.  I DO plan to create a budget tutorial to help those of you who are new to budgeting or using a spreadsheet to budget.
Thanks for ALL of the GREAT ideas and please look forward to new rewards giveaways in the future!  If your name was picked, I will send you an email requesting your address so I can send your prize out in a hurry.  For those that did not win anything this time, do not be discouraged!  I have something for you too!  Here is the link that just became available to watch Town Hall For Hope for FREE online!
Carnival of Personal Finance Blog Train
I have recently found, and am extremely enjoying, something called Blog Carnivals. It's a really great idea, and a way to get a variety of financial advice to those that want it, quick, fast, and in a hurry! I participated in the Carnival of Personal Finance: #205 Pay It Forward Edition, and here are my picks of the best blog articles listed:
The Worst Credit Card Company Practices Revealed – Discover Debt Freedom
Personal Finance Lessons I Learned Growing Up – Passive Family Income
10 Reasons To Rent – Carrie…On The Cheap
Allowance And Chore System For The Kids – My Financial Recovery

One of my articles from last week was submitted and chosen to appear in the carnival, so if you haven't read it already, check it out here!
Congratulations and ENJOY!