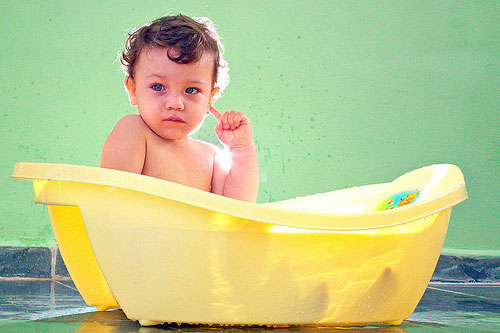 [Guest author today, Jason Steele]
Having a baby creates the ultimate budget paradox. On one hand, it's every good parent's instinct to spare no expense when it comes to their children's health and safety. At the same time, "sparing no expense" can be a non-stop ticket to unlimited debt.
So how can parents resolve this paradox? It starts with a conversation about how to express our love and caring in ways other than spending. The wealthiest, most free spending parents do not love their children any more than their more frugal neighbors. And once a child's need are met, additional spending does not translate into a happier, healthier kid. In fact, it helps to remember that history is filled with tales of wealthy, privileged children that do not want for anything, but are otherwise neglected by their parents.
Once parents' work on trying to decouple their spending from their emotions, they then need to take on the practical aspects of saving money on baby expenses. Here is what my wife and I learned when raising out two children:
Bigger is not better
One of our first baby purchases was a nice, but large car seat/stroller combination called a travel system. The problem was that it was too way big for traveling anywhere. We quickly replaced the stroller with this car seat carrier that was smaller, lighter, and less expensive. Later, we bought this stroller that sells for as little as $35, but is lightweight, compact, and has storage space.
What parents like us forget is the one universal fact about babies: they are small. They do not need a stroller that is three feet wide, six feet long, costs $300 and can only fit in the trunk of an SUV. For that matter, they don't need you to drive them around in a gas guzzling SUV. Babies fit just fine in small and mid-sized cars, and the right sized gear fits nicely in almost any trunk.
Save your gear
Another incontrovertible fact about babies is that they grow quickly. This means that you are only going to get a few months use out of virtually anything you buy. So unless you are determined to only having one child, try to preserve your baby gear for your future offspring. We like to wash clothes, car seat liners, and toys, and then seal them in a plastic storage box. Finally, we label the box, indicating what ages these items were useful for.
When our second child was born, we first shopped our attic for all of the tried and true baby gear that we already owned. This drastically reduced the cost of raising our second child.
Buy in bulk
Whoever said that the only sure things in life are death and taxes didn't have a baby. Otherwise, he or she would have included diapers and baby wipes. As a single guy, or even a childless couple, I was never a fan of warehouse stores like Costco. Nevertheless, these stores are a much less expensive place to purchase baby supplies in bulk.
DIY baby food
Buying baby food is outrageously expensive, and largely unnecessary. Humans got along well for hundreds of thousands of years before small jars of baby food were invented. Talk to your pediatrician, but every doctor and nutritionalist we spoke to commended us for serving fresh fruits and cooked vegetables that were pureed in a blender. And don't bother spending big money on a special baby food blender, a $20 immersion blender works just fine.
Final thought
Raising a child is difficult and expensive, but spending more will not automatically make you better parents. By making smart purchases for your baby, your family can save money for your future.
———
Jason Steele is a contributing writer for CardJournalist.com.  He has been featured on Yahoo Finance, Huffington Post and many other news outlets talking about everything from how to get free tickets on Southwest Airlines to popular credit card myths.
[Photo by Adriano Aurelio Araujo]