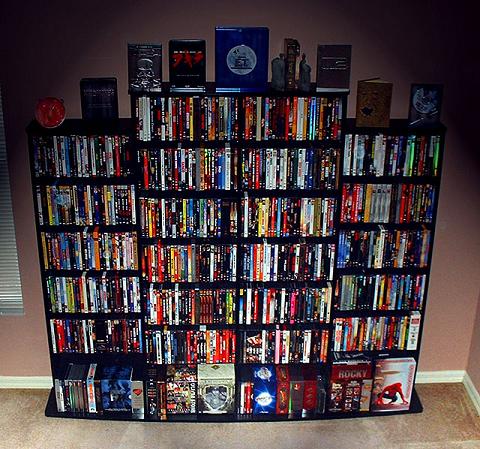 There are lots of things that people waste money on, but I want to talk about something that I used to waste money on.  Movies!  Do you have a DVD collection that rocks?  I have noticed that people take great pride in their DVD collection, and you often hear them proclaim it's greatness with enthusiasm.  I used to be one of those people that collected movies, that was at least until I realized how much money I WASTED on movies that I hardly ever watched.  I started asking myself if the value was worth the expense.
People like to brag about their collection because they feel it gives them some kind of advantage over those that do not collect movies.  With the resources available to rent movies at extremely low prices, or watch movies free online I consider it a waste of money.  For starters, there are places like Netflix that allows you to pay one low price to be able to watch multiple new movies each month.  At Kroger, there is a machine that allows you to rent new movies for $.99, called Movie Cube.
What about those of you who pay all that money for cable television?  You could record movies that you like and have them to watch later for no cost.  Sure that's old school, and you won't have that cool new DVD case to showcase your movie, but at least you will save some money.
How many times do you watch any movie that you have in your collection?  With all of the new movies coming out on DVD every month, who has time to watch the old ones?  I watched a few movies from my old collection a few times when I was bored but do those rare moments justify the expense?  I don't think it does.  Movies lose value and are a very poor investment and use of your very hard earned money!
OLD Movies on sale at $5.00 each. (It takes a LONG time for any movie to reach the $5.00 price.  Usually it is because the movie is seriously old and outdated, or just stinks all together.)
500 movies x $5 = $2500
By renting one movie a week for $1.00 it would take you over 48 years to spend $2500 on movies!!
Blockbuster Movies on sale at $10.00 each. (I used to buy these more than anything.  2 DVD's for $20 sounds like a great bargain.)
500 movies x $10 = $5,000
By renting one movie a week for $1.00 it would take you over 96 years to spend $5,000 on movies!!
Brand New Movies – New movies can cost as much as $30.  Usually between $20-$30.  (I can think of a million other things that $30 could buy that has more value than even the best of movies.)
500 movies x $20-$30= $10,000-$15,000
By renting one movie a week for $1.00 it would take you over 193 years to spend $10,000 on movies!!
What if instead you had any one of these amounts in savings?  Instead of watching old movies you coud watch your financial situation improve.  Watching your savings account, that does go up in value, is a whole lot more rewarding than being abe to impress others with a robust DVD collection.  Just a thought…