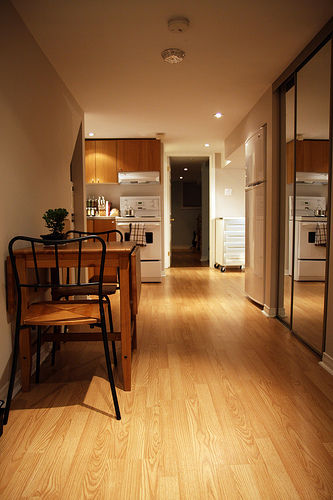 Photo Credit: kowaleski

This is a guest post by Jeff Orloff.
Cutting insurance altogether is never a good idea, even when you are trying to save money. Unfortunately, one of the biggest myths when it comes to insurance is that renters insurance isn't necessary so many people take a pass in order to budget that money for something else even if it means leaving the possessions you have accumulated over your lifetime unprotected from theft or disaster.
When it comes to renter's insurance, there are many ways you can cut costs so that your possessions are protected while staying within your monthly budget. If you currently have a renter's insurance policy, or you are considering one, then these money saving tips can help you pay less each month:
Check with your auto insurance provider. Insurance companies want to sell you as many policies as they can, as an incentive they are willing to give pretty good discounts for each policy you have with them.
Check with your employer. You should be shopping around for the best deal, but one place people often forget to look is to their employer when they are buying renter's insurance. While health insurance is the most common group policy, some employers offer other types of insurance as well.
Secure your home. Just like a homeowner's policy, renter's insurance covers your belongings against theft and vandalism. If you can show that your home has an alarm, deadbolt locks, fire extinguishers, smoke detectors, and other safety and security devices you will be eligible for discounted rates.
Don't buy too much insurance. Many people are over insured because while it may seem like a good idea to buy a huge policy, this usually not necessary. Take an inventory of your possessions and what they are worth. Ideally, you want a policy to cover everything but if you are really trying to cut back on your premiums then decide what you really need replaced and buy a policy that covers the replacement of these items.
Raise your deductible. This can help you save when it comes to monthly premiums because the insurance company is responsible for less up front costs.  Remember though, in the event of a loss you will wind up paying more.
Of course, you can always wind up saving more if you have more leverage to negotiate with your carrier. Ask them if you can get a discount if you pay your annual premium in one lump sum. Also, ask what other discounts they offer. You can find that companies are often willing to knock off a few bucks for people over 55, students, government employees, and members of certain organizations. Sometimes, you just have to ask.
Jeff Orloff has written tips on insurance and how to save money. He wrote this as a blogger for the Renter's Insurance Blog.