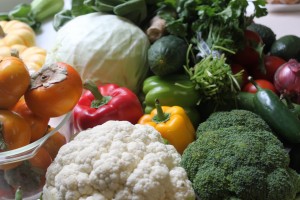 Just about 4 years ago, I decided to become a vegetarian. I did it after reading a few books and having the vivid imagery stick with me.  My imagination started to get the best of me and before I knew it, meat was literally off the table. It's been good not only for my health but for my family's budget as well.
There's a reason that when people are trying to cut back on their grocery budget they opt to have meatless meals each week. Meat is expensive. But vegetarian meals, if not planned properly, don't actually save money. In fact, they can cost even more! Here are a few tips to keep your meatless meals inexpensive and budget friendly:
Refrain from convenience foods. Boca burgers, Amy's frozen and prepared meals, and numerous other brands provide a nice meat-free alternative that still tastes…well, like meat. They're a nice way to transition to a meat free diet (kind of like nonalcoholic beer) but they are expensive. If you base your meals around these types of foods, you're not benefiting your budget at all. Incorporating one or two every few weeks isn't a huge budget buster but  do not make these a staple.
Stock up on beans. They're a great source of protein and are quite versatile. At my supermarket, organic beans go on sale every few months or so and I go to town stocking up. When they're on sale, they're the same price as the regular store brand beans and since I stock up, I save money over the next few months.  I prefer to use organic beans because they are not packaged with sugar. While I could save even more money by using dried beans, I cannot cook them properly at all. It's actually a waste of money for me to buy them.
Pay attention to recipes and ingredients. One of my biggest problems with many vegetarian meals is the expensive spices and herbs that are required. On numerous occasions, I've been drawn to recipes only to toss them aside due to some ingredient like saffron that's going to cost more than the rest of the ingredients combined (last price check on saffron? $18 for 2 threads. Outrageous).  By carefully reading the recipes, you'll be able to figure out which ones are practical and money saving and which ones are just too costly.
Eat in season produce. This obviously applies to non-vegetarian meals as well. But when you're trying to incorporate vegetarian meals into your weekly meal plan, it's even more important that you follow this rule. Vegetarian meals are typically heavier on fruits and vegetables and to use out of season produce is sure to be a budget killer. And if you live in a food desert or have trouble affording fresh produce, frozen vegetables are a suitable substitute.
Be open minded. Many people can't imagine a meal without meat. I know because I'm married to one of those people. But when I decided that I couldn't eat meat anymore, my husband and I had a long talk about it. We established one rule "If it tastes good, we'll eat it". As a result, we've had many, many meals that neither of us ever thought we'd enjoy (and not one of them involved tofu. Because tofu? Is disgusting). Being open to trying new recipes and foods has allowed us the ability to expand our recipe index and our palettes. It's also saved our budget on more than one occasion.
I concede that a vegetarian diet isn't for everyone. And that's fine. But it certainly is a good way to shave a few dollars off of your grocery budget.
How do you save money on your grocery budget?