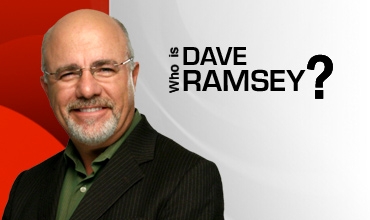 Every so often, I run into a blog that bashes Dave Ramsey and what he teaches.  If you are loaded with debt, and you don't know who Dave Ramsey is, then maybe you should take this opportunity to get to know him.  Don't take my word for it, and especially do not take the haters word for it.  Learn for yourself, and find out why Dave is actually changing people's lives! You might be surprised at what you find out!
Who Is Dave Ramsey?
Dave has made it his mission to help people avoid, or get out of tough financial situations, by sharing what he and his wife Sharon have learned from their very own struggles.  When Dave was in his mid 20's he had a net worth of a million dollars, but it didn't last long.  His fortune, which was built by using debt, suddenly started to crumble, and for the next two and a half years they struggled with losing everything.
Dave has written numerous books which include, The Total Money Makeover, Financial Peace Revisited, and More Than Enough, to name a few.  He started a radio show called "The Money Game", and now hosts the nationally syndicated radio show called "The Dave Ramsey Show", which has over 4 million listeners, and reaches 400 stations.  On the show, Dave gives life changing advice, and on Friday's, takes calls from people who have become debt free and are ready to scream "We're Debt FREEEEE!!!"
Dave is also known for his comprehensive 13 week, video-based course called Financial Peace University.  Dave has helped millions get out of debt and continues to share his knowledge and experience with others.  Recently, he held a Town Hall For Hope Live event which reached over 1 million people, and was hosted in over 6,000 locations!  The event was organized in a matter of weeks!
What Does Dave Ramsey Teach?
Dave is someone that has changed our life, and in more ways than just financially.  He gives people hope and motivates them to reach for something that others have told them was impossible.  He teaches people debt free, common sense, biblical based principles that anyone can understand and follow.  His program involves using what he calls the baby steps which give you a clear and concise plan of action to follow in transforming your financial situation!  His message is that by eliminating your debt, your income becomes a wealth building tool, instead of being used to pay off tons of debt payments.  His motto is, "Live Like No One Else, So Later You Can Live Like No One Else!"  In other words, sacrifice now, like no one else, so that later, you don't have to.
His Baby Steps Are:
Baby Step 1:  Save $1,000 FAST!
Baby Step 2:  Debt snowball
Baby Step 3:  Save 3/6 months of expenses
Baby Step 4:  Invest 15% for retirement
Baby Step 5:  Save for kids college
Baby Step 6:  Pay off your home early
Baby Step 7:  Build wealth and give!!
Why Is Dave's Plan So Successful?
The reason it works is because instead of addressing your problem with math, it addresses the real culprit which is your behavior.  He shows you that by taking control of your situation and having a plan, you too, can build wealth like many others before you!  It can be done, and he is very good at convincing you of this. He explains the importance of knowing what it is that you are doing, instead of taking someone else's word for it.  When you understand something, you are more likely to make a smarter, more informed decision because of it.
Even though some do, it is hard to argue the success of Dave Ramsey's plan, and just how many people have discovered financial peace for themselves!  Anytime I have recommended The Total Money Makeover to a friend, Christian or not, they have on more than one occasion told me that it was the best book about money that they have ever read.  I have read many, and certainly agree with them!  I have even had friends who were stubborn to the entire idea, but eventually came around, and are now excited every time they pay off a debt!  The plan works every single time if you actually do it!
Success Story: Debt Free Living Part 1, Debt Free Living Part 2. (Story of Paige and Micah Tyson)
Critics of Dave Ramsey Say…
I first want to add that I think Dave's critics are usually those involved in the very industries that are affected by what Dave teaches, such as the insurance industry, credit card industry, and others who are in the investing world.  Then there are the ones that seem to be too smart for their own good, and think that Dave's plan is too simple, or not mathematically correct.  Dave's plan deals with more than just math, and as Dave himself points out, if you were doing math, you would not be in debt in the first place.
He is only in it for the money – The people that say this are just ignorant all together.  They likely believe that when someone makes money off of their ideas, even if those ideas help millions, that the person must be taking advantage of others.  I believe that anyone with great ideas deserves to get reimbursed for their contribution to society!  Ideas often involve blood, sweat, tears, and tons of sacrifice to make it from the drawing board to be used by you and I!  Additionally, if he was only in it for the money, why would he pay back lenders that he had no legal obligation to pay back, because of his bankruptcy?  We're not talking about small change either.  How many people do you know, that have filed bankruptcy, and done this?
His methods are not sophisticated enough – This attack usually comes from the people who think that just investing in Mutual Funds and IRA's is stupid.  Everyone is entitled to their opinion, and can still do it their way if they choose.  Dave is very good about explaining all possible investments and the risk that comes with them.  His point is that taking on high risk investments isn't needed in order to build wealth.
He gives people bad advice – What bad advice?  If his advice is so bad, then why are millions of people, including myself benefiting from that advice?  Bad advice usually is uncovered immediately because it does not work!  This accusation is usually spouted by the ones I spoke of earlier that have only an agenda, but no proven plan to wealth.
He is too mean with his advice – This comes from the politically correct folks, that are more worried about someone's feelings being hurt.  Dave's advice is to the point and truthful, and if that bothers you then maybe you do not really want a solution to begin with.  Maybe you know the saying, "The truth hurts."  The truth is what people need to hear, not some lie that leads them to believe that their situation is not as bad as it actually is.
Do You Want To Become Debt Free?
If you are struggling with debt, then you may want to consider checking out what Dave Ramsey teaches a little deeper.  It has changed our life and we are very glad we found him.  He changed the way we think about money, which is what is needed if you really want to attack the problem.  For years we have been fed lies and myths about money and what success looks like.  I am here to tell you that we have been shown a different picture and I think that it can help you too!  Like I said, don't take my word for it, go see for yourself!
If what Dave Ramsey teaches is wrong, then I don't want, or need to be right!  "Right" in this case, is probably BROKE!  If you don't like Dave's plan, don't use it, but I would rather listen to someone who has done it, than to someone that merely has an opinion about it. Guess what, it's working!
Thanks Dave Ramsey!