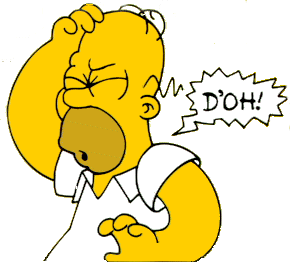 Broke Financial Gurus?  No Way!
It's true!  You can be considered an expert, but that doesn't mean you will not struggle with the process itself.  It doesn't mean that discipline is automatic. and most of how you handle your money is behavior anyway.  We know exactly what it is that we need to do, and why, but even we still have problems when it comes to following through at times.
Why is that the case?  For starters, we are human which means we can mess up, and to me there really is no other explanation needed.  Whether it's impulse spending, eating out, forgetting irregular bills, or spending our money on whatever our weakness happens to be, the truth is we will eventually have a weak moment.  For me, I love to buy books, and even though I budget for this category on a monthly basis, I still have trouble when finding out about the latest book that I must have!  Sometimes I am good and sometimes I am not!
Now my wife and I, have another issue that plagues us.  It's called eating out, and sometimes depending on our schedule, it can get bad.  For instance, last month, we should of been able to pay off an additional $250 in debt.  That $250 was used to grab the quick and easy meals when time just seemed to be against us.  If you break that down, it is really only going out to eat about eight times if you include tip.  I work for tips, so for us to tip at least $5 is not unusual at all.  This does not include money from our grocery budget that we used on eating out, instead of buying groceries.  (We have NO excuses, we were bad last month!)
I am not telling you this because we are broke, because we're not.  In fact, we have an Emergency Fund, and are killing our debt slowly but surely. (At least it feels slowly) Slow progress is still progress, right?  I am telling you this because sometimes you will fall off the wagon, but the key is to jump back on and start killing it again!  This blog isn't just for you, it is also a reminder for me to stay focused.  Ultimately, I am just like you, and I have weaknesses, but together we can help each other.  "Hi, my name is Brad, and I am a recovering spend-a-holic!"
Things to avoid:
Carrying your debit card everywhere you go – 9 times out of 10, if we did not have our debit card with us, we would have come home and cooked a meal instead of go out to eat.  If at all possible we try to use our debit card only for paying bills, but as you can see that does not always work. Try leaving your debit card at home! (You should assume that credit cards are a NO-NO as well, and for more reasons than what I talk about in this article!)
Giving Up On Your Budget Once You Mess Up – It's really easy to just throw in the towel when you feel you have failed, but it is important to regain control and fast.  The longer you go without balancing your budget to compensate, the quicker you will run into more problems.  Sometimes if we have messed up really bad, we will redo the entire budget for the rest of the month with our remaining income.  This helps A LOT!
People That Say They NEVER Make A Mistake – To believe that someone has never had to adjust their budget because they made a mistake is absurd.  These kind of people will do nothing for your self esteem, so I suggest that if someone starts talking about how perfect they are with their finances, just walk away!  While some people may mess up less frequently, or have more discipline than others, no one is 100% perfect at anything.
Window Shopping – Most often when I buy a book that wasn't budgeted for, it is because I decided to go "look around."  Avoid it!  You are more likely to impulse buy when you are in the moment, and the "I need it" part of you decides to take over.  If you find that you have given in and wake up the next day with a little buyers remorse, find the receipt, and take it back immediately!  You feel guilty for a reason!  We have returned many things because of this, and we always feel better when we do!
I wrote this blog to reassure those of you who wonder if anyone else is struggling with the same thing you are!  It's not the first time and it won't be the last!  As a matter of fact, I would like it if you could share something you struggle with from time to time when dealing with your finances.  What tips can you share with us that will help someone avoid, or better deal with their situation?