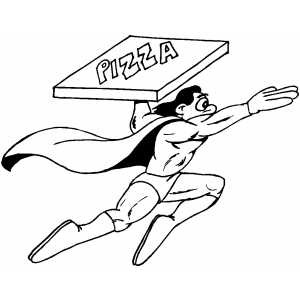 A Little Background Information
I work for tips, well at least for the moment anyway.  I have been working at Papa John's for going on 4 years, and it has been VERY good to me.  I deliver in the UVA area so business is usually better than in other parts of Charlottesville.  It's flexible, EASY, and I have made some great money, especially when my wife was going through Nursing School.  It has allowed me to spend lots of time with my little man, Isaac, over the years, and to me that is better than any monetary rewards.
Here recently, we have decided that it is time for me to move on to more stable employment, as the tips I make these days, are not comparable to what I was making in the first 3 years.  I have made as much as $300 in one night before, but generally used to average between $125, and $160 a night, and then there's my paycheck.  The last year has slowed and it has become harder to make $100 a night.  This has forced us to make some decisions about what to do next.  Needless to say, I have started to look for something else, to bring our income back up to the DEBT DESTRUCTION level that we want.
Almost anything I do is going to bring with it day care costs, and to the tune of $800 a month, but we think we can still make it worth the extra expenses.  Our snowball has gotten smaller in the last 5 months since my wages have dropped dramatically over that same time, so it's time to make a change.  The summer time doesn't offer much relief with UVA students home for the summer.  My plan is to continue to work at Papa John's part-time, and somewhere else full-time.  We need to kill our debt and fast!  We are making steady progress, and have made more than our minimum payments on the student loans we have left, but it feels like we aren't moving very fast, especially once the interests dings our balance.
I am currently going through school, debt free, and am looking forward to being able to start my Financial Coaching business to fuel my desire to help others with their money.  I need to become debt free first though, so here's to finding something to help me do it faster!  I'll keep you posted!
It's Hard Not To Notice
Ever since we started working our Total Money Makeover, it is hard for me not to pay attention to the amount of orders I take that involve credit cards.  In the past 6 months the credit card transactions have seemed to double, but the tips have increasingly gotten smaller.  This is really no surprise to me, but it is amazing how people continue to rack up the debt, in order to have lunch or dinner, or even that late night pizza after being at the bars all night.  I often find myself wondering if the entire night out for some of these people, was completely funded by the plastic devil that they carry so lovingly in their pocket.  I can't tell you how many times I have wanted to point out the dangers of credit cards to these students and other customers who use them.  I don't because it's not my business to do so, but the urge is undeniable.
Last night I was delivering 2 large pizzas, that cost about $26.  After arriving 25 minutes after her placing the order, she hands me $51, and asks for $25 back in change.  Next she starts to apologize for "not tipping more" and declared herself broke.  Huh?  I guess it made her feel better to use the phrase "not tipping more", but if you do the math, she should have said "not tipping at all" instead!  This is something that you just have to get used to when you work for tips and believe me it happens more than you think.
It has always been hard for me to understand how someone could have something delivered to their house after little to no effort, most of the time because they don't want to go anywhere themselves, and not tip the guy using his own car that is working for tips.  Gas, oil changes, & constant car maintenance, add up and believe me it isn't cheap, but it is something that I try not to let bother me too much, because if I did I would always be mad.  The good and the great tippers really make up for the dead beats, and I thank them heavily each and every night.
If You're Too Broke To Tip, You're Too Broke To Order

Aside from letting you get to learn a little more about me, I really just wanted to point out something that seems so obvious to me, but not to others.  If you are truly broke, and not just giving a lame excuse as to why you can't give a tip, then why are you ordering pizza, not to mention the best delivered pizza there is?  Why not head to Kroger, Giant, Food Lion, or Harris Teeter and get you a couple of frozen pizzas for half the price?  They are no comparison to Papa John's, but you will be much less broke and it makes much more sense doesn't it?  Don't eat steak and shrimp if all you can afford is Ramen noodles.
Now I am at least glad that this particular customer paid with cash and not a credit card, so maybe there is some hope after all.  I really wanted to respond to her "being broke" comment with, "Well, I write for a website called, enemyofdebt.com, maybe you could check it out".  It's just a guess, but I am sure she wasn't broke because she had plenty of savings and no debt following her around.  I simply walked away hoping that the next customer would realize the service I was providing, which is usually how it goes.
I am looking forward to not having to rely on tips, so becoming certified as a financial counselor needs to happen faster.  I am not looking forward to working a full-time, and a part-time job, mostly because I will hardly ever see my precious son!  I remind myself that it is only temporary and that the benefits from doing so will enable me to teach Isaac the value of hard work and sacrifice, as well as kill our remaining debt so my career may begin.
More News From EOD
I got a little sidetracked with my goals for the week, regarding a new theme, but it is still something I plan to do.  I actually tried a couple of themes but couldn't get them to work properly so what I have is better for now.  I have created a list of articles to help new readers find there way here at EOD, now all I have to do is post it.  I will do so this coming week, I promise!  The insurance blog I planned to write, got moved because I had a more important project come up.  One thing I have found after writing for a year at EOD is that when I am inspired, GO WITH IT NOW!  If I wait the inspiration fades and the blog article doesn't pan out.  The series called Keys To Effective Money Management is in the works, and I am hoping you enjoy it and learn from it as I post each new addition to the series.
I went to the zoo in D.C. this week, along with some museums, so I am hoping to post my adventure next Saturday.  I am going to use Saturdays to let you get to know me a little more, and to update you on any progress or changes regarding EOD.
Carnival Update From This Week
These are the carnivals I participated in this week.  In case you missed it, I posted the article I submitted, if they were chosen to appear in the carnival.
Carnival Of Personal Finance #206: Stars and Stripes Edition:  Hosted by Greener Pastures.
Carnival Of Debt Reduction #193: The New Credit Card Rules Edition:  Hosted by Prime Time Money.
Carnival of Pecuniary Delight's #9: The Organic Gardening Edition: Hosted by Passive Family Income.
Carnival of Money Stories 2: A Road Map To Money Health: Hosted by WalletPop.
Thanks to all who hosted these carnivals so that we can all learn from each other about our finances!  Have a great weekend!