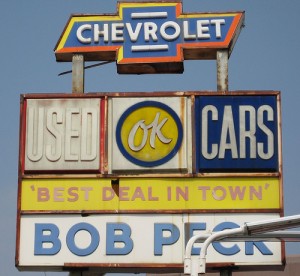 Credit reports are a funny thing that even the most seasoned of financial experts have trouble understanding. With all of the "myths" and "misconceptions" about credit scores swirling around it can be difficult to decipher myth from the real truth.
Recently my friend went to a car dealership in search of a new vehicle to replace their old vehicle. Unfortunately, they didn't have the money saved up to purchase the vehicle (I advised paying cash makes the most financial senseJ), and were going to have to finance the vehicle.
When applying for any loan or line of credit you are subjected to a credit pull to determine your credit worthiness. After the credit pull was complete and the score was in plain sight my friend was shocked to find their score was much lower than they expected. Not only was this car loan going to cost them more but their "lower" score was going to affect their insurance payments and maybe even their chances for employment.
They had many questions for me as they had fallen victim to believing the many myths about credit and had no idea they were causing the damage they did through actions they thought were innocent.
So let's debunk some of these myths to clear up a few of the misconceptions about credit scores so you can get your credit score in tip top shape.
Myth vs. Reality
The BBB recently published a video by the NFCC, The Many Urban Myths About Money and Credit where some of the most common myths about credit reports are debunked.
Here are the top 5 myths:
1. "Bankruptcy Wipes the Slate Clean, Leaving me Debt Free"
2. "As Long as I'm paying something toward my debt, I'll remain in good standing"
3. "I don't have any credit problems. so there is no reason for me to check my credit report"
4. "When cosigning a loan, I am not responsible for the debt"
5. "The credit card companies know what I can handle"
My friend had actually believed 2 of these 5 myths; myths 3 and 4. They admitted to not having checked their credit for at least 2 years. There is no reason not to check your credit at least once a year, it's free!
They had also gone through a divorce about 2 years ago and unfortunately had no idea the accounts they were cosigners for were affecting their credit. Their ex had let the accounts go delinquent causing a major drop in their score as they were equally responsible for the debt.
Many of us actually believe these myths and hurt ourselves by not understanding how credit scores really work.
5 More Myths for Thought
1. The amount of money I make affects my credit score. Debunk: While your income may be a factor in being approved for a loan, your income is not considered as a factor in your score. When computing your credit score, credit bureaus only look at things such as your payment history and how much debt you owe; personal information like your gender, age, and location can't legally be considered.
2. Checking your credit will lower your score. Debunk: The Fair Credit Reporting Act, entitles you to one copy of your credit report a year from each of the three major credit bureaus. You can check once a month or more if you want (it's not necessary) and it won't adversely affect your score.
3. When you get married so does your credit. Debunk: Marriage does not mean married credit scores, each of you has your own profile. However, your spouse's credit habits can affect your credit score, specifically activities like paying bills on time.
4. If you co-sign on a loan, your credit score is not affected. Debunk: When you co-sign for a loan, you are equally liable (along with the primary borrower) to repay it. This debt will appear on your credit report and will have the same ramifications as if it were your name alone. The bottom line is know who you are co-signing with. If the other person pays late, that late payment will show up on your credit profile as well.
5. If you don't use it you lose it, your credit that is. Debunk: Your credit score is based on active accounts, but that doesn't mean inactive accounts that are still open just disappear. Those accounts are still part of your "available" credit.
My friend got their "crash course" in credit report myths vs. truths after their disheartening experience at the car dealership. Knowledge is power, so get to know your credit report!
Have you ever been blindsided by your credit report?