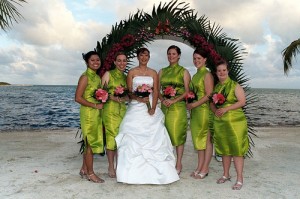 I have surpassed the threshold of having multiple friends I grew up, or went to school with (making us all about the same age) getting married in what seemed like—all at once. There was a span of about three years where I attended, or was in fifteen weddings—the expenses crushed my finances.
I never calculated the actual amount I spent, the shock may have given me a heart attack, but I would venture to guess I spent an average of $750 for each of the 5 weddings I was in and roughly $200 for those I attended, making the total over $5,000. What I could have done with $5k…
These were figures from…ahem…ten plus years ago. Today, according to a 2010 weddingchannel.com survey, bridesmaids spend an average of $1,695 per wedding.
42 percent of wedding guests will spend $100-$500 per wedding, and 13 percent plan to spend more than $1,000 according to a recent National Endowment for Financial Education survey.
With summer right around the corner, wedding season is upon us. So if you have a slew of weddings to attend this summer, proper planning can help you "be there" for your friends and family without going into debt. I'll be sitting this season out, as I don't have a single wedding to attend.
In the Wedding
I always looked at being in someone's wedding as an honor; after all they picked you to play a role in their special day. But the expense of being in a wedding (especially an out of town one) can be a real budget buster.
A breakdown of expenses to consider:
Your bridesmaids dress. It's worth looking into whether the bridal shop will negotiate a group discount for you and the other girls. Also consider having a local tailor or your handy seamstress mom alter your dress instead of the outrageously priced bridal shop.
Accessories (shoes, jewelry). See if you can find some cute costume jewelry for the bridal party online or at a local department store and they show it to the bride—she might just love it! Payless shoes prices on dyeable's can't be beat buy your shoes there instead of the pricier shoes at the bridal shop.
Hair and makeup. DIY all the way!
Bridal shower / bachelorette party. Work with the rest of the bridal party to plan fun, memorable events instead of lavish ones. Split the costs and see if the bride's family can help in some way.
Wedding / shower gifts. This is when being creative can pay off. Give the happy couple a framed photo from their dating days, print it out in black and white and select an elegant frame. Create a DVD set to music with pictures of them—these are always a big hit! Or, select a bottle of wine in your price range and accompany it with a poem of well wishes for the newlyweds.
Travel expenses. This is often where you get hit the hardest and it's an expense you just can't get away from. Check out Yapta.com. This site will track ticket prices on the flight you want to take and then send you an e-mail the minute they drop.
Attending the Wedding
While the expenses are slightly less than being a member of the bridal party they still add up. The key here is to plan, plan, plan!
Buy registry gifts early. Many of the "less expensive gifts" are snagged early on for showers. Buy your wedding gift early and find something the couple wants that fits your budget. Another way to save is to visit plasticjungle.com to see if you can find a gift card for any of the stores where the couple is registered. You can buy the card at a discount and save money on your purchase.
Rent a dress. If you are attending several nuptials with the same gang you won't want to wear the same dress. Consider renting a dress from RenttheRunway.com. This site rents out designer dresses, starting at $50.
Travel plans. Watch flights and consider booking your hotel through a discount site to save where you can.
Bottom line weddings are expensive. If wedding season is hitting you hard and you are struggling with debt, all the savings tips in the world won't help you from making your debt situation worse. You may have to be honest with your friend and let them know about your situation, if they are truly your friend they will understand. Make plans to celebrate with them after the wedding and offer your help with wedding planning instead; you will be involved without the expense!
Have you ever gone into debt over wedding expenses?