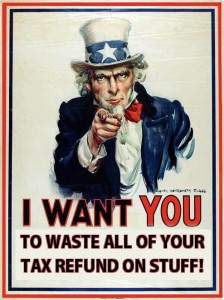 As we enter tax season, there are some relevant questions we should ask ourselves about our intentions concerning how we use our tax refund. If any of you are like I was, before I became the Enemy of Debt, you've probably spent a few tax returns before the ink even dried on the paper.
Now most "good" financial advisers will tell you to change your withholding so that you are not giving the Government an interest free loan each year, but also to give yourself more of your own money each month.
I actually believe the same thing, but have to admit that we always get a return no matter what we change. Some of it is that I work for tips and it's hard to know a head of time, how much I will make—in order to figure out the correct amount to withhold. I need to sit down and spend the time necessary to figure it out. It sure would help me reach my savings goal for 2010! (I just talked myself into it.)
So if you are like me and have been lazy about actually sitting down to figure this out, it IS important that you DO SIT DOWN, and consider where the money will go when you do get it. For years, we received our return only to watch it vanish (literally) before our eyes. That is no way to take advantage of getting a large amount of money all at once, just ask the majority of lottery winners who wind up just as poor or worse than they were.
In both 2008, and 2009, we used practically ALL of our returns to pay down debt, and BOY IS THAT FUN! Don't believe me—try it!! IMPORTANT NOTE: If you plan to run that debt right back up again it's really not all that fun, because all you are doing is paying it down, to begin the cycle of spending it all over again.
Save it for good! Pay off debt for good! Invest it for good! Waste it NEVER!
SAVE IT!

Do you have an emergency fund? If you don't, this would be the PERFECT opportunity to really change your situation for good. Ever heard someone claim they are not able to save an emergency fund? I have, but I bet they get a nice size check from the Government each year. Are you that person?
For some reason people view their tax return as EXTRA money, when really it is a part of their annual income to start with. It's not extra! It also seems people view spending their income tax return as fun, and well, how fun is it to save it? It's a lot of fun if you have your priorities in order, and know what that emergency fund will do for you and your family some time in the future.
Ever get sick of the same ol' same ol'? Consider for a moment how great it would feel to break the cycle of debt and living paycheck to paycheck. Bye bye crisis living, hello responsibility and financial preparedness. I can tell you from experience that it is SUPER AWESOME! So PLEASE…save your tax return by putting your money in a place where it will be the next time you have an emergency.
If you have debt, SAVE at least $1,000 and use the rest of your return to pay off debt! If you don't have debt save at least 3 months of your expenses. Your emergency fund is the first step of your journey to financial freedom.
PAY OFF DEBT!

Has debt been the center of your financial life for as long as you can remember? Don't put up with that anymore! Say no to cyclical slavery, and decide that you deserve more for yourself. Get rid of that hope shattering anchor RIGHT NOW by using the debt snowball method! Do not wait until next year, stop making excuses. You owe it to yourself to change course, and unless you love struggling financially or giving all of your hard earned money to the big banks—YOU MUST DO IT NOW!!
Debt keeps you from really enjoying life! You may think you are enjoying life because you have bought a bunch of fancy high dollar possessions, but that is not enjoyment folks. Material possessions will NEVER make you happy, nor will they keep you content. You will always have something else on your list of items to buy that you supposedly "need".
What you need is discipline. What you need is to start delaying pleasure. What you need is a plan that doesn't involve thoughtless spending. There are consequences to your actions and the consequences will hit you the hardest when your body tells you at retirement that you need to slow down, but can't because you have all this debt to pay off. PAY IT OFF NOW!
Do it now when you are physically and emotionally ready for the challenge. Stop allowing others to become rich off of your hard work. There's absolutely NO EXCUSE for accepting that as a way to live. The Government will NOT save you, no matter how much they claim to try.
INVEST IT!
Now I almost didn't add this part because I figured if you have the discipline to save an emergency fund and be debt free, you are probably already investing your money. However, I know there are some of you out there that are in that situation and need a gentle nudge.
Pretend you didn't get a tax refund and invest all of it. Better yet, act like you owed money and pay yourself that amount, the point is to get started now. Keep the ball rolling by saving at least 5% of your income each month for retirement. It's just a start, but at least it's a good one?
Do you keep up with the Government at all? I do, which is why I am not counting on my social security check when I retire. Nope, I am going to already be ready for that day by taking the proper actions NOW. Wouldn't it be nice to be able to donate ALL of your social security checks if you do in fact see one? That's what I plan to do. I do not need Uncle Sam to hold my hand because I have a plan—and you can have one too. Get started today!
DON'T WASTE IT!
For goodness sake…DON'T WASTE IT! Give yourself a head start for 2010 by cashing in on some financial security and stability. I will just be honest here. If you waste your tax return you have no reason to believe that 2010 will be any different than any other year. Want to know why? It might be a bit hard for you to swallow, but the truth of the matter is that you will have chosen your priorities. To me that means that you care more about stuff, than you do about saving for emergencies, paying off your debt, investing in your future, and dare I say your family?
Yeah I said it. Don't be shocked, this is the place where YOUR BEHAVIOR MEETS REALITY!
Let's take a moment to think of a tragic circumstance. It can happen to any of us, but let's say you pass away (God forbid) on April 16th, right after blowing your families tax return on stuff. You don't have any savings. CORRECTION! Your family has no savings, lots of debt, no retirement, but hey, they have a lot of worthless stuff laying around. That stuff will make everything all right I guess. PLEASE…wake up.
Your family would already be having a hard time mourning your loss, don't force them to pay for it too. If anything, your family is the very reason you need to make different decisions in 2010. Think long and hard about how you spend your tax return this year. That's all I am saying.
Make the right decision for you and your family this year by not wasting your tax return!