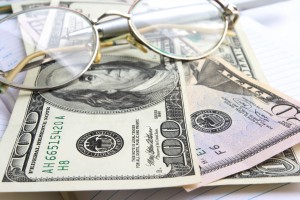 Happy New Year everyone!
I hope you've already thought about what you want to accomplish in 2012 with your finances. Are you going to get out of debt in 2012? Regardless of what your financial goals are for this year I want to kick things off with a challenge.
When it comes to managing money successfully people have more excuses than they have solutions. Whether it be saving for a rainy day, paying off debt or building retirement there's always an excuse as to why we can't do this or that.
Usually those excuses have to do with income so I thought it would be appropriate to challenge you to take $100 and turn it into a profit. I believe most people can find $100 in their budget but just in case it truly is a problem for some of you I'm going to extend the challenge to include ANY AMOUNT OF MONEY.
Can you take $5, $10, $20, $50, or $100 and turn it into a profit?
I think you can. Actually I know you can! How do I know that?
Because my wife does it monthly. She buys items she finds at Goodwill, yard sales, and auctions and then sells them on eBay, craigslist, and consignment sales. She's purchased many items for less than $5.00 and has turned them into more than a $50 profit. It takes a little work but it's not hard to do. She didn't go to eBay college or get a degree in sales so I'm confident you can do it too!
The point of this challenge isn't to make you a millionaire. The point is to get you thinking about how YOU can reject the notion that one income is all you have to rely on to reach your financial goals. Creating multiple sources of income is a great way to bring in extra money to help accelerate your financial plan. (How do you think the idea of me starting a printing company came to be?)
Most of you know my wife is the true brains behind making money on eBay so to make things interesting I'm going to do the challenge myself without her help. I'm going to join you to prove anyone can do it. Remember, my wife had to start somewhere too. 😀

At the end of the month I will share with you my results. For this challenge I would like to use THIS POST (the comment section) to discuss anything related to this challenge. Ask questions, share your purchases and ideas, or anything else you feel is relevant. There are no winners or losers just a group of people interested in making extra money.
Let's do this!
$100 Challenge Guidelines
You do not have to buy items to sell on eBay but you MUST have something invested. The idea is turn that investment into a profit. For instance, if you like to make/sew blankets then you could make some to sell and record a profit.
Items that you have at home do not count towards this challenge though I highly recommend that if you have anything at home to sell then sell it! Anything to get that debt paid off! 😀
Have fun and be creative with the process. Think outside of the box and teach yourself how to expand your income without relying solely on a raise or a bonus from work.
You may use more than one method to earn your profit.

Please ask any questions you may have in the comments section. My wife and I would be more than happy to assist you.
Tips for Success
Research an item before you buy it (eBay is a great place to search for items that have already sold and for how much.)
Know the risk factor. (Don't take huge risks while you're learning the process. A $5 risk for one item is much better than a $100 risk if you're unsure you can recoup what you paid. Start with low dollar purchases.)
Look for quality well made items
Look for "like new" items with little defects unless vintage or antique. (No one wants a pair of shoes with scuffs on them but they might be willing to overlook quality on a vintage G.I. Joe figure collection.)
Name brand items have a better resale value
Think seasonal. (For example; boots and jackets sell better in winter than in summer.)
Avoid large bulky items unless you plan to sell them locally on craigslist
Use shipping calculator to estimate shipping costs when listing on eBay
Watch Pawn Stars, American Pickers, or Storage Wars to get an idea on how to value items.
Examples of items that sell well are:
Name brand purses (be wary of knock-offs)
Vintage toys and dolls
China
Porcelain figurines
Lady's shoes and Cowboy boots
Old items that may have sentimental value
GOOD LUCK! 😀