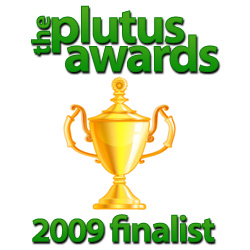 Hello everyone! I want to share with you something that I need your help with. Flexo from Consumerism Commentary put together the Plutus Awards to help showcase the best in personal finance. Enemy of Debt was nominated for the "Best Debt Blog" of 2009, and I can't tell you how much of an honor that is. There are some really great debt blogs out there so to be in the same company with some of them is truly special.
I thank you for your nomination, and now I must ask you for your vote.
It would be super awesome to win but to be honest I am pretty thankful to even be nominated. Thank you!
I would like to congratulate some of my buddies, and I encourage you to vote for them as well. My boy over at Budgets Are Sexy got nominated for 7 categories with his bad self. (What a PF Rockstar you are J Money!) I would also like to personally congratulate Financial Samurai, Fiscal Geek, Bible Money Matters, Frugal Dad, Punch Debt In The Face, Out Of Your Rut, Redeeming Riches, My Next Buck, The Centsible Life, Budget Pulse, and Well-Heeled Blog for their respective nominations as well.
As you can see I am in great company! I need your vote though and am counting on you to help me out. 😀 take a few minutes to vote for your favorites right here. If you could also Tweet it that would be so awesome!
RT @Flexo: Vote in the @PlutusAwards for the best personal finance bloggers of 2009.
Thank you all for giving me a reason to keep on going. If not for you, I would have quit a long time ago, so thanks for all of your support!
P.S. My Book Review: "Outstanding by John  G. Miller" has been moved to Tuesday. My school work has kept me super busy this week, along with all of the other things I am messing around with. Look for it on Tuesday and have a great week! Tomorrow I will be posting the first post to kick-off the March Manage Your Money Challenge, so for all you who felt you were up for it, I will see you then.