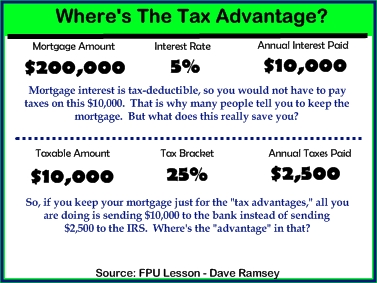 Go to www.daveramsey.com/fpu to learn more!
Decisions, Decisions!
The American dream is to own a home, but at what cost?  Should you sacrifice financial security just to buy a home?  Should you take advantage of creative financing in order to bypass the red flags?  Should you buy a home if you have absolutely no savings and no down payment?  The answer is NO to all of the above.  If you attended the Town Hall For Hope event then Dave Ramsey attempted to teach us a new word.  That word is "NO". His point was that we need to learn how to say NO again, instead of just blindly saying yes to everything just because we want it.
Having your own piece of the American Dream is nice, but there are some things to consider before you sign on the dotted line.  For instance, do you have 3/6 months worth of savings tucked away in case you lose your job?  Do you have at least 20% for a down payment to avoid paying Private Mortgage Insurance (PMI)?  Have you considered getting a 15 year mortgage instead of a 30 year mortgage? (On a $225,000 home at 6%, you will pay only $550 more a month and after only ten years you will have a balance of about $98,000 on the 15, as opposed to $188,000 on the 30.)
My friend J, over at Budgets Are Sexy agrees, that you shouldn't be afraid to rent for a small period of time.  You have less risk, less responsibilities, and more time to strengthen your financial situation.  It's not forever unless you want it to be!  Patience and proper planning are wise and don't worry, one day, you will have a piece of the American Dream too.
Here Are Some Of The Things You Should Avoid
Adjustable Rate Mortgages – The risk of higher interest rates is transferred to the buyer in exchange for a lower rate.  It is also possible to think you can get more house.  It might seem like a good idea but when your rate adjusts, you will suddenly find out why it is not a good idea.
Interest Only Mortgages – Stupid, Stupid, Stupid!!  This is what we did and boy do we regret it!  Paying only the interest sucks!  Don't do this EEEEEEEEEVER!  ($36,250 and 29 months later we still owe the same as on day one.)  When thinking about it I often want to slap myself for being so foolish.  haha!
Accelerated or Bi-Weekly Payoff – This is not a bad idea if you do it yourself but believe it or not there are Mortgage "Gurus" that will try to convince you to do this for a fee.  I'll save you the fee:  Pay one half of your mortgage payment every two weeks and because there are 26 two week periods each year you end up paying ONE extra payment.  Yep, that is what they are charging you for.
Tax Benefits – This is not only a myth, it is also bad math, but so many people tell you to "take advantage" of these supposed benefits. (

see example above

)
Trailers, Mobile Homes, and especially Timeshares – Buying a trailer or a mobile home is the equivalent of buying a brand new car.  The value drops like crazy and if you think you are upside down on your car, wait till you see your new home value plummet.  Buying a timeshare is not a good investment.  Timeshares are huge scams and once you buy into one, you are going to have to like it because getting rid of it is next to impossible.
House Fever – This is when you are at your highest risk for buying more than you can afford, or even overlooking something that can later prove to be costly.  Consider your options, look for a deal, and never ever forget to use your walk away power.  If you have walk away power then you will likely make a better decision.
Debt Free Suggestion
People think that the only way to own a house is to have a mortgage, but I disagree.  Have you ever considered paying 100% down?  If not you should consider the benefits of doing so.  Some benefits include avoiding bondage, having more of your income to invest, build wealth, and give!  I like those benefits and after we get rid of our current mortgage we will not be borrowing for one ever again.  People on the Total Money Makeover complete Baby Step 6 (Pay off your mortgage) in about 7 years.  Keep in mind that is after paying off any other debt, saving 3/6 months of expenses, saving for college, and investing 15% of your income.  If you did all of that in about 7 years how free would you be.  More free than most that's for sure!