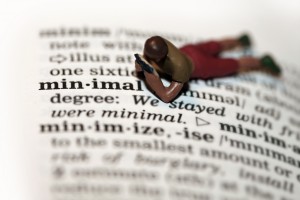 Hey everyone! Since yesterday's post was so long, and I have two posts for you today, this one will be brief. I just wanted to talk about something that I have been thinking a lot about lately. GETTING RID OF STUFF! I have come to realize that you actually have more by owning less. Getting rid of stuff is almost as liberating as paying off debt. And of course, just like with our debt, it took us a while to realize that it needed to go.
We have recently decided to put our house on the market. That's right, if you're like me when you hear that, you're thinking COMPLETE debt freedom. We'll save the "it's better to own than rent" talk for another day, even though I would love to point out why that's not true on so many levels.
Last week, we were running around at crunch time trying to get rid of as much of our stuff as possible. Why? Well, for one we know we have too much crap, and secondly, this is the first time we have ever sold a house while living in it. So you could say that it was our decision to sell our house that forced us to do the dirty work a little bit sooner. My wife entered about 180 items in a local consignment sale, we gave Goodwill about 8-10 BIG bags of toys and clothes, and took to the dump, a whole truckload of crap.
We feel the benefits already, and we are excited to take it to the next level. We still have one major room to go (the office), and a few spaces here and there to hit with a fine tooth comb. I wanna get rid of anything that I have not seen or used in the last month. Now my wife is not quite that hardcore, but she is definitely on board. Like with our debt, we are sick and tired of being sick and tired of being…surrounded by stuff.
Ironically, my son has been walking around the house singing the Bare Necessities of Life song from the Jungle Book movie. He did not like the prospect of becoming a minimalists at first. He was rather upset, so we talked. We talked about how much stuff he had, how much stuff he would still have, and that another kid would be able to have some really fun toys because of his kindness. Pretty soon he was carefully digging through his stuff picking out things he could put in the bag, but also paying real close attention to what mom and dad were picking up.
ME: "EVERYTHING GOES! Arggghh!!" (except for his beloved Lightning McQueen toys of course.) 😉
HIM: "No daddy pleeez, any toy but that one…take this one pleeeeeez!"
ME: "That's quite enough son, get in the bag!" LOL (totally kidding)
Well come on, Dave Ramsey does say, "get rid of so much stuff the kids think they're next." How else would we make him think he's next? haha!
The next day Isaac was collecting a pile of books. When I asked him what they were for, he said he was giving them away so another little kid could read them. Isn't that perfect? Maybe he won't act like that every time, but for a 3 year old to part with any toys at all can be a challenge. Let's hope my micro-minimalist remembers the song he was singing earlier this week. I'll have to remind him about the bare necessities of life if he starts to give me any lip. 😉
So that's all I have for you. Tomorrow don't miss a brand new Debt Free News From A Debt Free Reader featuring Debt Free Hispanic. For those still in my Manage Your Money challenge, you need to leave your comments to enter by midnight tonight. The challenge has been great and the ones that are participating are making great strides. Won't you join them?
Don't forget to vote for yours truly in the Plutus Awards for BEST DEBT BLOG of 2009! See you tomorrow!