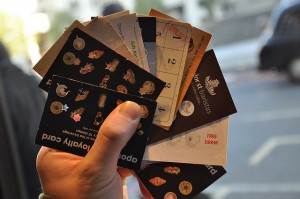 The wallets and key rings of consumers have been filling up with little pieces of plastic that promise deep savings. Whether it is a loyalty card that offers you discounts on products or a membership card that offers even greater discounts chances are the stores you shop have one to offer.
The economy is forcing millions of us to find new ways to earn extra money as well as cut back on expenses. One of the easiest ways to do this is to find the right mix of discount, membership and loyalty cards to stretch your hard earned dollars farther.
What makes a great discount card?
The number one aspect of a great discount card is that it comes from a store you frequent. If you have a discount card for a store that is 30 minutes away, it may not be advantageous for you to spend your money at their store. An alternative would be to find a store closer to you where the discounts are similar. Even if they are slightly less, the savings in gas should be considered.
Also equally important is the type of discount you are being offered. Many grocery stores offer discounts on items in the stores as well as money off gas at their own gas station. This discount card is, in essence offering you double the reward. One grocery chain that offers a great deal of discounts with their loyalty card is Kroger. You are earning 10 cents off each gallon of gas for every $100 you spend. This savings can really add up.
CVS offers the users of its ExtraCare Card a number of great benefits. Customers who use that card when filling prescriptions can earn ExtraCare Bucks towards future purchases. The amount you can earn from prescriptions is $50 a year but you can also earn an unlimited amount by shopping special deals and sales in their store.
Pairing coupons with discount card savings is yet another characteristic of a great loyalty card. Most stores allow you to use coupons in conjunction with sales that are available to you when you use your loyalty card. If the store you are shopping at does not, it might be to your benefit to find another store to shop.
Are paid membership and loyalty cards beneficial?
It seems counterproductive to pay for a card that is going to save you money but there are a number of cards available that can save you far more than the cost of the loyalty card.
Amazon, while not an actual plastic card, does have a paid membership in it's AmazonPrime program. This offers free, faster shipping to anything you purchase on their site. It has the added benefit of giving you access to Amazon Instant Videos. If you purchase at this site regularly, this might be one way to save you some money by paying money. And added bonus, you will recoup some of the cost by canceling your membership to other online video streaming sites.
Another store with a paid membership discount card is Costco. Their membership can offer you many ways to save money not just on groceries and gas but in check cashing and even roadside assistance. There are a number of ways to reduce the price of the Costco membership discount card as well.
Starbucks has a well-received discount card. You will have to pay for it as well but with free drink offerings and other discounts, the cost of the card is usually reaped in the rewards.
When deciding which discount, loyalty or membership card to utilize always do your research. Make sure the costs associated with the card are worth the investment. Consider the steps with which you can opt out. And make sure the deals truly are deals rather than higher prices marked down a little bit if you use their card.
The potential to save money is there in that little piece of plastic. It just takes diligent research. And conscious spending.
Jessica Streit is the owner of The Debt Princess and a staff writer for Moolanomy Personal Finance. Moolanomy.com is an online personal finance blog aimed at helping its readers gain control of their finances, earn more, spend less, and live better.