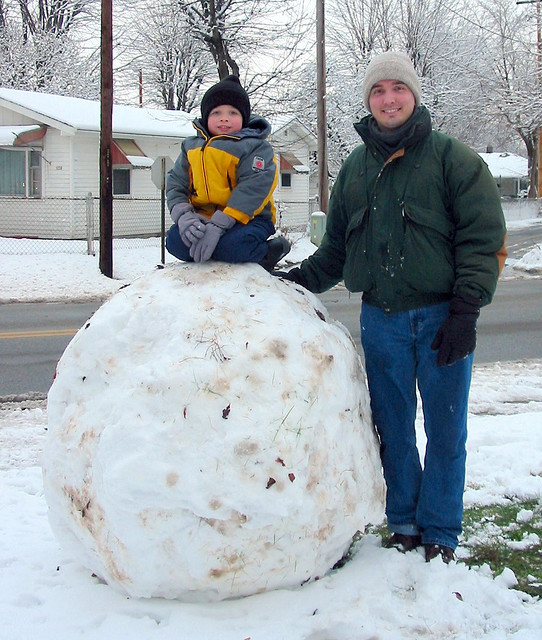 If you are trying to get out of debt and you're savvy enough to be reading personal finance blogs then you've probably heard of "The Debt Snowball".  I'm sure Brad has you all well aware it. If not, I'll explain it really quickly.
A debt snowball is when you line up all your debts and the organize them from smallest balance to largest balance. You make the minimum payments on all debts except the one with the smallest balance. On the debt with the smallest balance you pay the minimum payment plus every single extra dollar you can get your hands on. Once that is paid off you move on to the next smallest balance and so on until your debt is gone.
Simple enough.
There is some controversy about the debt snowball because it doesn't take the debt's interest rate into account. Which is a valid concern. If you pay off your debts using the same method as above but organize them from highest to lowest interest rate instead then you will have your debts paid off a bit sooner. This method has come to be known as "The Debt Avalanche".
So which is better?
Well, as with pretty much everything in personal finance, it depends. Your personal situation is, well… personal. So to help you get a handle on your debt elimination plan I wanted to share this very cool Debt Snowball Calculator. It's an Excel spreadsheet and totally free to download. I like it better than other ones I've seen for a couple of reasons. One, it does up to 20 different loans. Two, you can choose to use the debt snowball, the debt avalanche, or any other order. It will allow you see how much difference it really makes between all the different ways to pay down your debt.
You might like the snowball method for it's motivation and quick results but feel like you are wasting money keeping high interest rate loans hanging around. Well, with this calculator you can really see exactly how much extra interest you're paying. It might be worth it, it might not. Or maybe you really want to get rid of your big car payment before you concentrate on other debts. You can see how that will affect things too!
Another really neat feature about this spreadsheet is that you can also add in some "snowflakes". Snowflakes are one time payments to your debt that aren't part of your regular monthly snowball. On the second tab of the spreadsheet you can plug in these snowflakes and see what an impact they make.
I think being able to see your future progress all laid out is extremely motivating. With this you get to see the exact date of your freedom from debt and all the little miles stones along the way. When you see it in black and white how can you not follow through? It's easy to ignore when it's a foggy idea. When it's just an idealistic concept you can pretend it's not for you. But when it's laid out step by step, month by month, with freedom just hanging there waiting for you to grab it, you can't just walk away. You have to go for it!
Image courtesy of Randy Cox