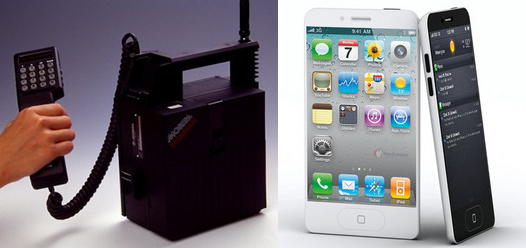 One of the coolest gadgets ever made is about to release the latest version — the iPhone5!
All you hear around the water cooler is how your friends and co-workers have already pre-ordered it and are actually losing sleep in anticipation of its release. Your drab, but functional iPhone4 seems like the first phone ever made and the pressure to upgrade is pulling at your purse strings.
I absolutely LOVE LOVE LOVE the iPhone! It has revolutionized how we interact and surf the web, interact with our friends and family, and in my opinion is quite possibly the best invention of all time. I'm not sure how I would survive now without one but I did it for a long time. However, my iPhone4 (NOT 4S) is working just fine. Actually, I've never had a problem with it. So why should I go and buy the iPhone5 now?
I shouldn't and I'm not.
Two years ago I purchased my iPhone4 for $200 with a new 2-year contract with Verizon. If not for that detail, to be honest, we probably wouldn't have one though I think they are definitely worth every penny Apple charges. It is a premium product!
With that said, I know some people will stampede others to buy this newest version for all of the wrong reasons. Here are just a few reasons I think you should not buy this new technological masterpiece.
Reasons You Shouldn't Buy the New iPhone5
Your current iPhone/phone works just fine.
You have any debt at all. (not including mortgage)
You have no emergency fund.
You will be using your emergency fund to buy it. (an iPhone is not an emergency.) 😀
The Joneses will most certainly buy one.
You are unemployed or underemployed.
You can't afford to eat HEALTHY. (You can't afford not to!)
You do not have health insurance but need and want it.
You are a college student with limited financial resources. (Student loans do not qualify as legitimate financial resources)
You have to go into debt to buy it.
With most of America swimming in debt it sounds like no one should buy an iPhone5.
Personally, I will not be running right out and buying an iPhone5. I can wait. After all, I waited until the iPhone4 came out before I took the technological plunge. Even though I admit it is a magical device, my life wasn't any less awesome without it. It's not the phone that made my life awesome. Becoming debt free is what made my life awesome!
Debt freedom, by far, exceeds anything the iPhone could ever do for my life!
If I had to choose between paying off debt and buying an iPhone, I would definitely choose paying off debt. You can buy an iPhone later and it is much much more enjoyable when you have no debt to think of.
If you are out of debt already, have a good emergency fund, have set aside money for the new purchase, and are rocking your budget — go buy that iPhone5. Remember a budget isn't meant to restrict you. If you have a plan and your iPhone purchase isn't going to be at the expense of your future financial security, it shouldn't be a problem.
I'm no Scrooge McDuck, all I'm saying is pick your priorities and plan your expenses. Just don't go out and buy an iPhone5 because your friends are doing it and then complain that you can't feed your kids, get health insurance, pay your utilities, eat healthy, or save for retirement. Priorities right?
Getting out of debt will put you on the fast track to having the life you want without being broke like the Joneses.
Don't be like the Joneses. They are broke and unhappy!
Photo Credits: First Cell — iPhone5