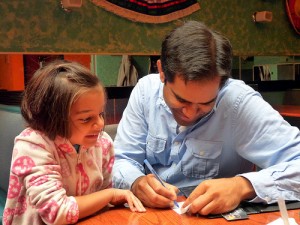 Were you taught about money and personal finance when you were in school? I wasn't. Even today personal finance is not taught in most schools or considered a curriculum requirement for college students. How do we expect today's youth to stop the vicious cycle of debt if we don't teach them how?
The latest report from the Federal Reserve shows that consumers are still using their credit cards in a big way; revolving credit, which is made up primarily of credit card debt rose to $801.0 billion. It's obvious the cycle continues as millions of Americans rack up debt and make financial mistakes.
Achieving financial success is a goal for many of us, but unlike learning to do fractions, geography, and English literature we aren't given the tools necessary for success in school. Instead, we are forced to learn from our mistakes and often after it is too late. Since most of us never received a formal personal financial education and (coincidently) most of us have experienced financial troubles at some point in our lives, our education begins instead when we hit rock bottom and are forced to seek debt help and take a crash course in personal finance.
Trial & Error
A subject I am very passionate about is teaching our future generations the importance of personal finance education. By making good financial choices early on in our adult lives our preparedness for our future will be so much greater and rock bottom won't ever become an issue.
If you are like me you earned your financial grades from trial and error. By making financial mistakes in early adulthood, I learned that there was a better way to purchase a coveted item (NOT with a credit card), a better way to budget (spend less than you earn) and a better way to save for my future (actually saving moneyJ ).
Think back to your high school graduation and subsequent college years. You most likely started working a part-time job, didn't save a penny, and maybe even opened up your first credit card. (I did all three.) When your small income wasn't enough to put gas in the car, pay for books, pizza and get that new outfit, you opted to charge it—not realizing the consequences. The bill came, you couldn't pay it, so the credit card company added a fee and raised your interest rate. That innocent outfit went from costing you $50 to $350 and so it begins—the vicious cycle of debt. Without having the necessary financial education you made some bad choices, choices that may still be affecting your finances today.
Early Intervention
If only we would have known the basics of personal finance from the beginning. Our schools do a pretty good job of letting students know the dangers of drugs and teen sex, but not the dangers of debt. Imagine if you were warned about the evils of credit card misuse or the consequences of not establishing a budget? Do you think you may have thought twice before taking out a car loan, or opening a credit card? Do you think you would have rented the chic apartment that was $300 more a month than you could really afford?
For some spending money is like a drug—it gives you a rush a feeling of power; I can buy this my friends will be jealous, I don't have to wait I can have it now. If we teach our children about some of the emotions associated with spending perhaps we could prevent the early money mistakes they make when they venture out on their own.
No one tells students the dangers of debt and how it can affect your entire life. The debate rages on as to whether or not it's the schools job to provide financial education to our younger generations but the good news is that in some states the battle is being won.
In the meantime as parents, grandparents, aunts, uncles and friends we can do our future generation a favor and share personal financial lessons that will last a lifetime.
Personal Financial Education 101
While we wait for someone to make a change to financial education in schools we can take a few minutes to teach our future generations some basic financial principles. These 7 tips will help you get the conversation started. Be sure to add your own personal experiences with each tip.
Determine your goals. Have them ask the question, "What do you really want to do and how much money do you think you need to do it."
Set up a realistic budget. After you have them determine their goals help them figure out what they will need to achieve them. Be sure to have them budget for everyday, monthly and annual expenses. To help you show how to set up a budget check out this resource guide.
Set up your emergency fund. Stress the importance of having at least six months of bills set aside; every little bit helps and having this fund can help prevent a total financial disaster.
Pay off debt. Pay off credit cards and other high interest debt asap. Hopefully you can instill the importance of using credit wisely and not relying on credit.
Check your credit. Have them find out where they stand with the credit reporting agencies. Many young people are shocked to find they are turned down for a loan and don't understand how credit scores are calculated—a valuable lesson of cause and effect.
Saving is a financial cornerstone. Teach savings strategies early and often, Use automation, a piggy bank whatever makes them comfortable.
Foster an entrepreneurial spirit. With unemployment stats today, relying solely on your employer for income can be a devastating financial mistake for today's youth. Teach that starting a business or getting a side job, can keep you afloat in times of unemployment. Not to mention bolster your savings!
We may have made mistakes, we may still be making them out of habit, but our younger generations don't have to. Make a commitment to share your personal finance knowledge with someone—make a difference!
What is the greatest financial lesson you ever taught?