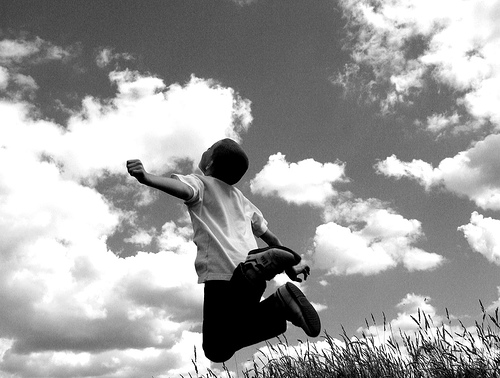 One week ago many of you started working on your financial resolutions for 2012. Hopefully those of you with debt resolved to put together a solid plan to destroy it once and for all. There are many factors that go into the process of debt elimination but one that is often overlooked or underestimated is the psychological side.
Anyone can say they want to become debt free but it's our emotionally-driven behaviors and attitudes that will grant us final passage into the world of financial freedom.
Math is only a very small component in the game of debt yet it's common for us to give it more importance. It's true that without the mathematical principle that says we should spend less than we make the rest simply won't work but it's also important to point out that this principle relies heavily on our actions.
You can know you need to spend less than you make but if you don't address the root cause of your debt you will never do anything more than just tread water. Many have been caught in the cycle of debt but it's important you realize only you have the power to get out.
How Important is Your Freedom?
One of the most important questions you should answer before starting your debt free journey is WHY DO YOU WANT TO GET OUT OF DEBT? Figuring out the answer to this question should give you a sense of urgency but only if your reasons are important enough to inspire action. It goes without saying that if your reasons for getting out of debt aren't emotional or important to you it is very unlikely that you'll ever be motivated enough to pull the plug on your debt.
Getting out of debt must become a priority in your life and it should be something you think about daily. As soon as you take your eye off the prize you will lose interest and eventually fall right back into your old habits and behaviors. I can give you a very good example of how this happened to me. As some of you know I had a goal to lose weight in 2011 and in the middle of February I made it a priority.
I started doing P90X.
I started counting calories.
I started eating healthier.
I started writing regularly on Enemy of Fat.
I started losing weight.
Then it happened.
I became complacent and the little things I was doing that were making the biggest impact slowly started to become less and less important. As this happened, I began to go right back to my old ways of eating poorly, not working out, and of course I started writing less. My priority was no longer losing weight no matter what I tried to tell myself.
The same thing will happen to you in your debt elimination plan if you lose sight of why you wanted to get out of debt in the first place. First you will make excuses as to why you must slow your roll, but ultimately they're just excuses. It's our way of feeling better about the failure to come. When your momentum begins to fade that is when you must STEP IT UP the most!
Your Behaviors Must Change
Our behaviors are by far one of the most challenging aspects of debt elimination. It means we have to look ourselves in the mirror and face the truth that we have not been acting in our best interests financially. The key to a successful debt free plan is your ability to be willing to change the behaviors that got you into debt.
The obvious answer is to stop spending less than you make and start saving money for emergencies but it's the individual behaviors and habits that keep us from doing both. We say things like life is too short and convince ourselves that making better decisions will rob us of something fun and exciting.
Since becoming debt free, I'm having way more fun than I was when I was having money fights with my wife, constantly stressed out, and trying to live paycheck to paycheck. No one enjoys change especially when it comes to how we spend money. But in order for you to truly enjoy your "short life" you must be willing to sacrifice something now to receive greater rewards later.
You'll notice that as you start changing your behaviors taking action will become much easier. Your motivation will skyrocket and as a result the things you thought you would miss out on will suddenly seem less important.
The main take away would be to NEVER stop taking action towards what's important to you. Your actions will determine your success or failure so keep reminding yourself of why you want debt freedom so badly. My wife and I had a few rocky moments when we were paying off our debt but ultimately we never stopped wanting to feel the plush greener grass on the other side. By the way, IT FEELS GREAT! 😀
Our debt freedom has made our life so much more meaningful and freed us up to do things we used to only dream about. Don't give up on your freedom! It is worth every effort you invest!
photo credit – karmin photography