The results of my research for my guest lecture to the class: The Psychology of Money and Wealth.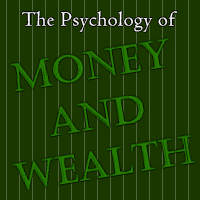 I was researching material for this lecture and came across this question. What stops people from succeeding financially, and having ongoing prosperity in their life? The answer is something I have addressed many times on this blog. The answer is believing that it is not possible to succeed financially, or even be prosperous in other areas of your life. A persons attitude about money is the number one hindrance to acquiring wealth and prosperity.
Your attitude affects your behavior, and your behavior determines your ability to succeed. Some attitudes about money that affect behavior include:
You have to work hard to make money.
I will never be rich.
Having money isn't spiritual.
Life is one giant struggle.
Money is hard to manage.
You need money to make money.
It's too late to start thinking about building wealth.
I don't have what it takes to become wealthy.
Do you believe some or all of these self-limiting attitudes?
If you do, then maybe you should swish this around for a minute or two:
"Wealth is not what a person has. It is a state of mind." –  thewealthymind.com
These attitudes about money and wealth start at an early age, and most often come from the most influential people in our lives—our parents and family. Those initial "imprints" coupled with FEAR cause us to accept that we are financially treading water. Fear paralyzes us into submission by tricking us into believing that we cannot possibly achieve what we believe is unachievable. Here's a  famous quote by someone who perhaps understood perfectly well how fear affected the human psyche.
"The only thing we have to fear, is fear itself." – Franklin D. Roosevelt 1933
Stop being afraid and just believe in yourself.
I've said it before. What you believe is what you achieve. If you don't believe it, you certainly can never achieve it. Once you face your fear you will be amazed at how very little you had to worry about in the first place. (Like me with public speaking for example—something I used to fear A LOT!) That's not to say that you will not encounter difficulty or even some degree of failure, but failure in and of itself—is not, and should not be seen as necessarily bad. It's how we learn how to be successful. I've also said that,  "Successful people fail far more often than unsuccessful people." Successful people fail but eventually succeed, while unsuccessful people fail by not trying at all.
You could go around all day and claim that you have never failed, but what if you instead said, "Hey everybody look at me, I have never tried"? Sounds a little different when you say it like that doesn't it? Then there are the people who try, fail, and then give up—perhaps because they feel that someone only gets one chance at success in life.
Imagine for a second, what things would be like today, if anyone who had ever tried anything stopped after only one try. No iPods. No PS3's. No iPhones. No plasma televisions. The list would go on and on wouldn't it?
There is something else that affects your attitude when it comes to money. Can you guess what it is?
Prepare yourself. You might not expect this coming from me. Okay, I'll just say it—it's DEBT! There I said it. Now look what you've made me do. I feel so dirty. 😉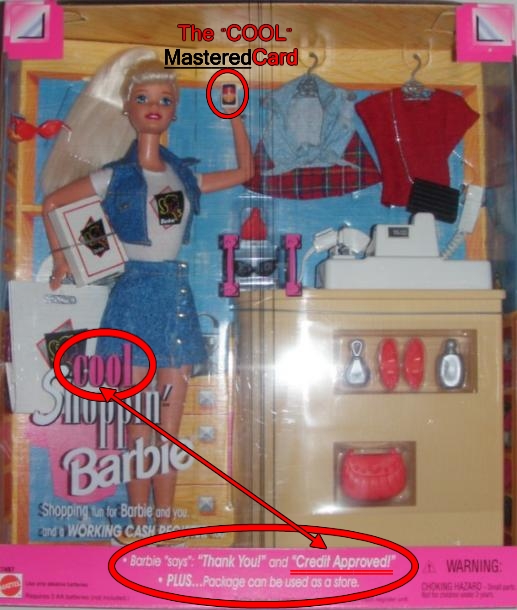 Seriously though, debt puts us in a state of mind that says we can not have anything without borrowing to get it. If we continue to live like that—we are doomed! Take a look around.
This mindset was formed as a child every time we witnessed our parents swipe their "beloved" plastic friend which made them oh so warm inside. Or what about the times we heard from their very mouths the phrase, "I'll just use my credit card"?
Dave Ramsey points out in his Financial Peace University course—the "cool Shoppin' Barbie" comes fully equipped with a "cool" MasteredCard. When you swipe your cool credit card Barbie says "Credit Approved". You see—the credit card companies have a plan, and it's not to fill your hat closet full of hats.
The warning on the box reads, "WARNING: Choking Hazard" when it should read: WARNING: Quicksand Ahead!
We never seem to outgrow that "kid in the candy store" mentality that tells us we must have it, and must have it now or else. Or else what you ask? Well, the child would pitch a temper tantrum, while the adult would also pitch a temper tantrum just plops out the credit card, all while convincing themselves that they deserve whatever it is they are buying at the time—regardless of how it affects them financially. I know because I used to be that guy. That guy was broke, stressed, unhappy, and that guy was duped!
How do you become an adult financially?
Change the attitude–>that affects your behavior–>that causes the financial disaster–>that kills your hope!
How do you do that? Do you want to know how I did it? I GOT OUT OF DEBT!
You can do it too! Enjoy financial independence with me, it's completely worth the effort.