Happy Monday everyone! I hope you had a super awesome weekend!
I had a terrific weekend but I'm a little sore and slightly injured. haha! Saturday morning I woke up and attended Isaac's Opening Day Ceremonies and his first t-ball game! I played baseball from age 5-18 so I was very excited when Isaac told Alana and I that he wanted to play baseball.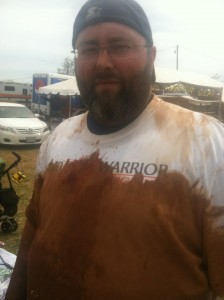 After that I was on my way to the Mud Warrior mud run I signed up for – 4 miles of mud and obstacles. I completed the run in a little over an hour and had lots of fun doing it but I didn't walk away without getting hurt. My right foot is swollen and my arms are bruised up. I can barely walk on my right foot and my right knee is bothering me a little too. LOL
Would I do it again? Absolutely! It was so much fun and I'm so glad I challenged myself to do it.
The best part was having Isaac running along side me towards the finish line yelling "GO DADDY GO!" At this point my legs were like spaghetti but his little voice gave me that extra motivation to push through.
Afterward he came up to me and said "Daddy, I'm so proud of you!! Good job daddy!" He wouldn't hug me but I could tell he wanted to.
Those words made all my pain worth it!It felt so good to cross that finish line!
I challenged myself and succeeded but I also put something in the mind of a little boy that told him he can do anything he wants to if he works hard at it. That was better than the race itself.
Now for the Book Giveaway!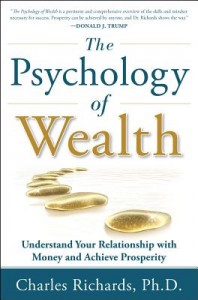 Today I will be giving away 3 copies of The Psychology of Wealth book to readers in the US and Canada.
I was hoping to provide you with a review of this book but I have not had time to read the book myself. I'll be doing a a review in the future because I think the psychology of money and wealth is what Enemy of Debt is all about. Figuring out why you do what you do with money and how to change bad behaviors is the key to any successful financial plan.
Author Charles Richards, PhD wants to help you understand your relationship with money and achieve prosperity.
From the cover:
We all know life is about relationships, but have you thought about your relationship with money? In The Psychology of Wealth, Dr. Charles Richards reveals how your attitude towards wealth dramatically influences whether you achieve your life dreams and financial goals. He provides insight and tools you need to strengthen this vital relationship.
People who enjoy a healthy relationship with money share common habits and traits. So how do they think, and what do they do differently? Are these behaviors hardwired in an individual's psyche, or can they be learned?
Get the answers to these questions and more!
Enter to Win
I will be selecting a winner on Friday so you have until Thursday night at midnight (EST) to enter to win.
To enter all you have to do is leave a comment below expressing your interest in winning this book. That is all!
Good luck!