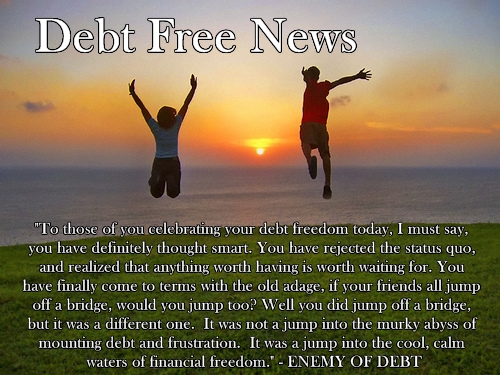 Do you miss reading stories about regular everyday people becoming debt free? I do, which is why I want to try and get that series up and running again. I haven't had a Debt Free News submission in quite some time, but I find it hard to believe that it's because no one else has become debt free.
Are you debt free? Share your story by answering a few short questions about your debt free journey so your experience may inspire someone else to start their own.
The good news is you don't have to wait for another submission to become inspired to take action in your own financial life. I already 20 Debt Free News articles (including my own) in the archives just dying to inspire and encourage the next debt free journey. Check them out and get started today!
Debt Free News Self Interview
Debt Free News 1
Debt Free News 2
Debt Free News 3
Debt Free News 4
Debt Free News 5
Debt Free News 6
Debt Free News 7
Debt Free News 8
Debt Free News 9
Debt Free News 10
Debt Free News 11
Debt Free News 12
Debt Free News 13
Debt Free News 14
Debt Free News 15
Debt Free News 16
Debt Free News 17
Debt Free News 18
Debt Free News 19
There you have it folks; 20 GREAT REASONS to become debt free!
If you've already become debt free, I'd like to encourage you to share your story to keep this very popular series going. Your experience may help many others as they fight the battle to become debt free. Of all the ways to stay motivated to pay off debt, this is one of my favorites. It reminds me of our debt free sprint to the finish line and listening to people call in on the Dave Ramsey Show to declare debt freedom.
It was an experience that brought tears to my eyes as I wondered what it would feel like to scream "I'm Debt Free" at the top of my lungs. The happiness you feel for someone else who has done the "impossible" is magical and I found it to be extremely motivating.