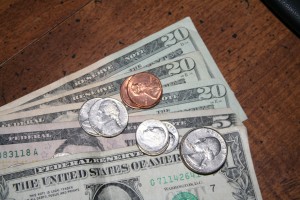 Sometimes we're challenged in the world of personal finance simply because we don't understand the value of money. If we don't, we're in trouble because one of the functions of money is to help us establish the value of things. It's easy to say that something is worth 15 dollars, but it would be odd to hear someone say, "That's worth 15 heads of cabbage." It doesn't happen very often because money is how we establish value in the marketplace, so we need to get a better handle on what it's worth. Value is a matter of perspective, so let's look at some.
Here are four perspectives on determining the value of money. Each is a variation on things you may be familiar with or have heard others talk about. How you value money is a personal matter, so we all have to create and exercise our own style.
Let's take a look at how we might put these perspectives to work in our lives in support of wiser financial decisions that ultimately help keep us out of debt or get us deeper into financial hot water.
How many twenty-dollar bills does this amount to? This perspective is the one I often employ when I consider car repair. A while back a guy told me that a certain repair on my car would cost about $120 dollars. When I considered skinned knuckles, an aching back, pinched fingers and all the cussing I would do for this particular repair, the idea of handing out six twenty-dollar bills just didn't seem like many at all. You could do the same for any denomination, but I like to use Andrew Jackson when I think in terms of how many Federal Reserve Notes I'm handing out. It helps even more when you consider it's just fancy printed paper. Six of those pieces of paper seemed like they bought me plenty of convenience and comfort…and a car back on the road.
What else can I buy with the same amount of money? When I look at the price of large flat screen televisions, it's enough to make me shake my head in wonder. At first I question how watching on a big screen can be worth a couple thousand dollars, but it's more likely that I stop and consider what else can be purchased with that money. It's easy to find an operable used car for that amount of money, and I can probably register it, insure it and fuel it for two years for the same price as one of the largest flat screen TVs. Who in their right mind would trade occasional entertainment for being able to go to work for two years? Without a doubt, two years of employment could earn you enough to put a large screen TV in every room of your house, and likely a couple of the neighbor's homes as well.
Is that a fair price considering other marketplace alternatives? I recently had the need for a VHS player. You know, that old video tape technology. Recalling years ago such units were selling for $30, and knowing that a DVD player can be had for $30, I was quite surprised when two retailers in my area had DVD and VHS combination players for sale in the $90 to $100 range. Even the modern online trading center of Ebay had units selling for $50 or more…for just a used VHS player. That was all the marketplace investigation I needed. The purchase would have to wait. I knew for certain I could get a VHS player at a garage sale during the summer for less than $10, and it's quite likely I'd find one for $5. As it turned out, I put a wanted post on the local FreeCycle listing and it was only a matter of an hour or so before I had a reply, and a couple hours later I had the VHS player in its new home. Okay then, for the cost of driving into the next neighborhood, I had the VHS player that others wanted just way too much money for. That's what I call a good value.
How many hours do I have to work to earn this? I suspect this question is one that is asked (or should be asked) more often by those earning relatively low wages. If you're full-time employed and you make $100 an hour, you're likely not worrying much about what the price of gas might be…one hour of work buys you about 30 gallons. But, you certainly would be concerned if your hourly wage were in the vicinity of minimum wage…one hour of work buys you perhaps three gallons, maybe even less. This is an especially powerful way to look at money because we often exchange our time for money. That means our money represents our labor, ingenuity, time and the overall "mileage" on our body, they're all things we trade in order to earn our dough. When it gets personal, and we recognize the price we're paying, we tend to pay more careful attention.
There of course are many other ways to determine the value of money, but I thought sharing these four might stir up some thinking. Are we using our heads when we make spending and investment decisions? Do we apply multiple perspectives to help us sort things out?
How is it that you determine the value of your money?