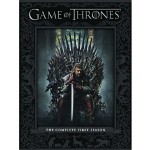 I love reading and my favorite genre is fantasy. I've enjoyed George R.R. Martin's Game of Thrones books and am looking forward to seeing the books in their video incarnation produced by HBO. Since I do not have cable, or HBO, my options are to either purchase the first season on DVD/Blueray or pay $2.99 per episode on Amazon Instant Video. From a financial perspective, this small purchase contains a useful lesson on spending.
The retail price for the DVD is $59.99. Several stores have it in stock at the retail price and you can watch it as soon as you get home. Barnes and Noble sells it in their stores and, if you don't mind waiting, it is also on their website, www.bn.com, for 44.99. Amazon currently offers it at a price of $33.99 with free shipping for Prime customers. Amazon also has venders already selling used copies as low as $22.99 plus shipping.
Although the cost is small, purchases like these add up and often cost more as they become part of our credit card balances. I remember when the Harry Potter videos were released. They started at retail with a few stores offering a discount. After a year, you could easily find them next to the magazines at your grocery store for $5. You can save a lot by waiting, even more by checking it out from the library!
When a product is hot and everybody wants it, the price is always high. In this example, it's a difference of $20-$38 but the same logic applies to larger purchases. A two year old used car with low mileage is half the cost of the same model when it was new. Buying a flat screen HDTV is much lower now than when they first became available. As a matter of fact, they are almost low enough that I may finally buy one!
I'm looking forward to watching Game of Thrones, but I'm waiting for the library. I want to enjoy the show without playing a Game of Loans!