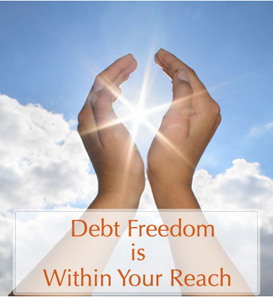 Surprise Double Post!!  On Fridays I LOVE To Motivate!!
I thought I would give you something to think about this weekend.  When you are out this weekend and pull out your plastic companion to pay for something I want you to think about this post.  I want you to think about Enemy of Debt.  I want you to think about debt freedom.  Most importantly I want you to THINK! 😀 You deserve the best and debt is not the best!  Where there is no debt there is freedom, and it is greener on the other side.  Think Green! 😀
The video clip below represents so much of everything around us.  Everyday we experience life, and everyday we have to make decisions because of it.  Decide NOT to borrow money this weekend! Imagine yourself without bondage!  Imagine if you were debt free.  How good would it feel to be free of minimum payments and purchases that haunt your paychecks each and every month?
Getting out of debt feels like what happens in this video.  At first you don't believe it can be done, but as you keep on pushing, and keep on digging, you will get further than you even dreamed.  It's gonna burn!  It's gonna hurt, and at times, you will feel like giving up.  Don't give up!  Give your very best!  Keep on going, you can do it!  When you reach the 100 yard line and look back to see just how hard you fought, and how far you've come, the only thing that will be at the top of your thoughts is that YOU DID IT! (We are almost there and I will be able to confirm this soon!)
Think about Brock and his attitude in the beginning.  It is much like that of someone who is in debt up to their eyeballs.  Void of hope.  As Brock is traveling down the field, to fight the impossible, imagine that is you getting out of debt.  It hurts and you want to stop, but the coach (EOD) is in your face, rooting for you.  Telling you that you must continue!  You must keep going! You continue to hear, "GIVE ME YOUR BEST, GIVE ME YOUR VERY BEST!" As you pay that last dollar of debt off (100 yard line), and Jeremy (your debt) jumps off of your back, how great do you feel??  I bet when you look back you will not be upset that it hurt, you will be happy you made it.  The accomplishment outweighs the pain!
Now you have to watch this video!  10 minutes of your time on today can save you years of bondage.  If you are not inspired, debt has got you whipped but don't you worry though, the seed of hope has been planted. 😀 Sometimes it just takes a while to sprout.
This clip is from the movie Facing The Giants.  Watch the video below OR click here if the video doesn't play.