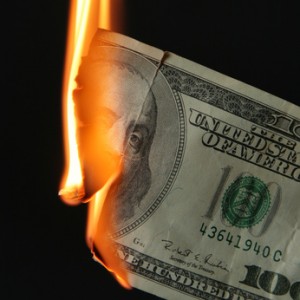 A few months ago, I wrote a few articles about how to budget.  But only recently, I realized that there was something I left out of those articles.
I discovered that when I speak to people about their finances and how to make a budget, there is inevitable that person that tells me, "I tried to do a budget, but it just didn't work for me".
When they express that to me, they seriously believe that doing a written budget just doesn't work and that there has to be a better way of doing things.  But there is one thing I've figured out about budgeting over the years, and that is that doing a written budget just plain works, period.
I've figured out that it's not just simply good idea for people who want to take better control of their money, it's a basic truth.
If you do a monthly written budget and you make sure to stick to it, you simply will not spend more money than you make.  It's just a basic truth that works every time, for everybody, no matter what your education level or income.   Because that's what truth is, it's absolute and unchanging.  It's not the budget, it's the person doing the budget who may need some help.
So if you've ever attempted to make a budget and it just never seemed to work correctly for you, here are some of the common problems you might have run into that kept you from doing your budget correctly and getting total control of your financial situation:
You Need to Make More Money-

  If you write everything down and cut every expense to the point where you've only budgeted for your needs (such as food, health care, shelter, transportation, etc.) and you still don't seem to have enough money, It may be time to get extremely honest with yourself and understand that you need to figure out a way to increase your income.  I realize that this can be a difficult subject, but it doesn't have to be.  If you've come to a point where you can't provide enough food or shelter, there are social programs available that can help.  Even better, there are many ways you can make extra money to increase your income if you're willing to  learn to think and act little differently.  The incredible power  of the internet now allows you to offer up any talents or skills you have to literally billions of people across the world.  I'm thoroughly convinced there has never been another time in history where it's been easier to make extra money.  That doesn't mean you don't have to put in some effort, but the entire world is your market, and the world wants what you have to offer.  Here are a couple of posts I wrote to get you started:
5 Ways to Make Extra Money, Even in a Tough Economy
Another 5 Ways to Make Extra Money, Even in a Tough Economy
You Didn't Stick With It for the Long Term-

  If you want to learn to live within your means and end the bad habit of spending more than you make, you have to develop new habits.  If you tried to do a budget and it just didn't work, make the effort to try again and stick with it.  Like any new habit, it can take awhile to ingrain it into your life.  Learning how to budget can be especially difficult because sometimes it can take a few months of doing it to totally understand how to budget effectively and really begin to truly understand it.  But mark my words, if you stick with it you will eventually "get it".  It is so worth the time, discipline, and effort, that it takes to develop this habit, and it will continue to reap ongoing rewards the longer you continue to do it.  It will literally save you tens to hundreds of thousands of dollars over your lifetime!

You're Spending Too Much Money-

  If you're making more than enough money to support your basic needs, but you still don't seem to have enough to get by every month, you might need to reevaluate your spending and expenses.  Are you spending $500/month on hair and clothing?  You might need to reevaluate.  Spending $50/month on a barely used gym membership or $300/month on eating lunch out every day?  You might need to reevaluate.  You may even be spending too much on needs such as food or housing, so you may have to reevaluate those expenses as well.  Let's face it, if you're making more money than the average household (about $46,000/year) and you say you just can't make it, it's probably time to start getting really honest with yourself and start challenging every single expense you have and find a way to make it work.  You CAN do it!
When it comes down to it, making a budget is about speaking the truth.  The numbers on the page are the truth of your financial situation, and it is very wise to be in the habit of confronting and even challenging your financial truth every single month with a zero based budget.
One characteristic about any truth is that it is absolute and unchanging .  Your financial truth might be better some months and worse in other months, but when you learn to deal in financial truth using a monthly budget instead of lying to yourself by spending more than you make, then, and only then, will you start succeeding with your money!
Resources:
How Do I Start a Budget (Round 2)
The Not So Pretty Story of Paying off My Debt
How Do You Budget on a Variable Income?
5 Ways to Make Extra Money, Even in a Tough Economy