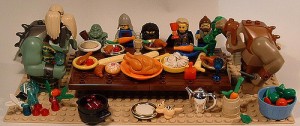 Thankful that is…today is Thanksgiving a time to spend with loved ones and reflect on what you are thankful for. It has been a tough year for my family and some days I didn't feel so thankful, but today I have a renewed attitude of thankfulness and realize just how lucky I am to have my health, my family, and the support of communities like this one.
Unexpected Gifts of Thanks
Sometimes we are dealt a bad hand and just need to make the best of less than perfect situations.
Divorce.  On April 5th of this year my divorce was final; while the marriage wasn't meant to be, I learned a lot about myself and found an inner strength I never knew I had; for this I am thankful.
Medical diagnosis.  On March 26th of this year I found out my 8 year old son was a Type 1 Diabetic. While Diabetes is not a terminal illness, it has taken the lives of many children, a scary statistic for any parent to face. Upon his diagnosis I went through several stages: fear, anger, and then determination. We have taken his illness very seriously yet continue to foster his "I can conquer the world spirit". His life is the same as it was before; school, sports, and hanging out with friends, the only difference is a highly regimented diet, blood sugar checks, and 4 insulin shots a day. He has not let his illness take over his life but quite the opposite, he has become a walking advocate for a cure and spreads his spirit to all he meets; for this I am thankful.
Unexpected expenses.  Unexpected expenses have taken a toll on my finances. As I look back on my budget this year I see many line items that were not there when the year began. My emergency fund has been depleted and I realized that I had to dip into "other" savings in order to keep up. I have always seemed to be able to mange my finances and makes smart choices, but its difficult to expect the unexpected. The divorce, medical expenses, and moving have taken their toll on my bank account, but I have a renewed sense of frugality and I am not afraid to ask for help when I need it; for this I am thankful.
Sharing and Caring: Isn't that what it's all about?
The holidays are a time to share with loved ones. This year as you converse with relatives you may only see once a year, take a moment and share. Share your stories; whether they are emotional, physical or financial don't be afraid to share. Sometimes just having someone to listen, can put the whole situation in perspective and give you a renewed sense of hope for whatever your problems may be.
Talking about your finances was once considered taboo. Today this is no longer the case as financial problems can happen to anyone; upper, middle or lower class. The rocky economy coupled with unexpected life events can turn even the most prepared to suffer financial losses.
The idea here is to share your knowledge about getting out of debt with people who need you. For those of you that regularly read Enemy of Debt you know the site is dedicated to sharing and caring.
So this holiday season share with your loved ones the gift of your knowledge, and help someone get back on track financially. To be or not to be thankful, you know you are, thankful that is…
What unexpected gifts are you thankful for this year?