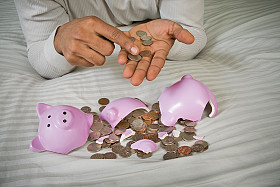 We recently had to use up a significant chunk of our unplanned expense fund.  We had a random piece of our roof blow away and, that very same day, my husband's car battery died.
The events occurred a week and a half ago, right smack in the middle of the holiday season.
This time of year, we don't have loads of extra cash lying around.
These are the types of issues that personal finance experts reference when recommending emergency funds.
Just about everybody has heard of an emergency fund.
We all know we are supposed to have at least three month's salary saved up, "just in case."  The problem is, that most of us are hard pressed to save up one month's salary, let alone three.
That is why I don't have an emergency fund; I have an unplanned expense fund.  Okay so maybe it's not that different, BUT, my fund is slightly more manageable.
Three months' salary would be awesome, but you have to start somewhere, and my somewhere is pretty shy of the recommendation.
Basically, if you want to truly break free from debt, you must have some kind of "plan B" savings situation.
My goal is to have at least five thousand available in my unplanned savings fund. 
This is still a significant amount of money to me and my husband.  Why five thousand?  We arrived at this number through trial and error.
My husband and I live in the hot zone for unplanned expenses.
Worried you also live in a hot zone?
If you share three of the five situations below…you are in a hot bed of unplanned expense:
We are homeowners.  Every homeowner knows that you will have AT LEAST one unplanned repair or replacement thing crop up each year.
We have kids.  Kids are not cheap.  The end.
We both work full time.  We both NEED to work full time…
We drive vehicles.  Vehicles can break, accidents happen and well, you get the point.
We have a pet.  Pets are similar to kids, because they are not cheap.
The kind of "unplanned" expenses we seem to encounter can typically be covered by three thousand dollars.  So, with a total unplanned expense fund of five thousand, we have a two thousand dollar buffer built in.  This is by design.
We would prefer to never be at zero in our fund.
The buffer gives us the opportunity to rebuild to our ideal balance faster and, acts as insulation, should another unplanned expense spring up before we have fully rebuilt the fund.
If we get hit with back to back unplanned expenses, there is a solid chance we can withstand the hit without resorting to using credit cards, or not paying a crucial bill.
So how about you?
Do you have an emergency fund or at least, like me, do you have a method to manage unplanned expenses?