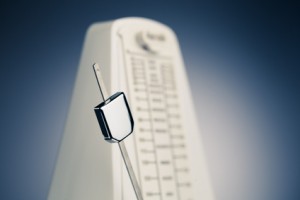 When you decide to start getting out of debt, it can be hard because you're attempting to live life in a new way.  You're changing your mindset about money and developing new habits that you hope to be permanent.
But while you're in the midst of making all these changes, it can be easy to let some of those old habits and mindsets creep back in.
That's why it's necessary to learn how to be consistent when you're trying to getting out of debt.
It Takes Firmness of Character To Get Out of Debt
One definition of consistency is "firmness of constitution or character".
When you finally decide to  get out of debt and stay out, you start a process of character building that eventually propels you to a higher and better place in your life.
You're constructing a firmness of character that changes more than just your finances.  The firmness of character that it takes to get out of debt serves to build you up in
other areas of life as well.
Consistency Has 4 Traits
So when you're trying to get out of debt, what does it take to be consistent?  I believe there are 4 traits to being consistent that will cause you to be successful in getting free from the bondage of debt:
Consistency means adopting a long term point of view.  Changing your mindset and habits for a short while and then reverting back to them later just doesn't work.  You have to change your habits permanently.
Having patience even though results are not coming easy.  Being consistent means being relentless about getting out of debt no matter how long it takes.
Consistency means getting back on track when you have a setback.   There will always be problems that stand in the way when you try to do something worthwhile.  To be consistent, you have to take the setback in stride, work your way through it, and continue on. Adopt the attitude that you WILL NOT BE DENIED!
Consistency means sticking with it even when others don't believe in what you're doing.  Family and friends may make fun of you because you have to sacrifice some things temporarily while you're getting out of debt.  Don't let the unbelievers drag you down and keep you from your goal.  Ironically, these will be the same people who ask you how you did it once they realize you're out of debt and not struggling with money.
Consistency Will Change Your Life
When you learn to put into practice these 4 keys for being consistent while you're getting out of debt, you'll discover that they will transfer to other parts of your life as well.
Learning to be consistent helps you to become disciplined and diligent toward the completion of any goals you may have in life.
It's much like the constant pressure of Earth's tectonic plates grinding against each other for millions of years that eventually forms a massive mountain range.
Or the consistent flow of the Colorado river that carved the Grandest Canyon in the world.
All it takes is a small amount of consistent pressure over time to change your financial life forever.
Being consistent with your efforts when you're trying to get out of debt will always cause you to win in the long run, period!
Question: Are there any other traits of consistency that you can think of?  Tell me what you think by leaving a comment
By the way, if you've been wanting to get out of debt and on a better path in your financial life, you might be interested in my new Celebrating Financial Freedom Christian get out of debt course that will be launching soon.  Click here if you'd like to find out more about this life changing course.
Resources:
Eliminate Debt By Telling Yourself a New Story
How Do You Get Out of Debt Part 1- Get Mad and Naked
How to Make Your Own Life Plan
Creating a Get Out of Debt Mindset
Relentless People Get What They Want