Today is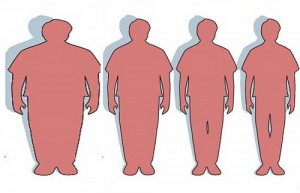 a big day for me. Today starts the beginning of a 3-month adventure that will hopefully turn into a lifetime of health and happiness. I just recently joined a team of five, four of the five being fellow bloggers, and we are trying to get our physical fitness under control the way we have our finances.
The team of bloggers are Baker from Man Vs Debt, Paul from Fiscal Geek, Jessie from PF Firewall, and myself, and we are planning on winning the competition, which will pay the winning team $10,000!! I am excited! There is a fifth member of our team, Darren, but he doesn't have a blog to link to.
As many of you know, I wrote a post recently called When I Am Sick of Being Fat I'll Lose Weight. This is something I have really struggled with over the years, and the problem for me isn't not knowing what to do. I know exactly what I need to do. I even know why I need to do it, but for some reason I still struggle with the habit part of that process. I need a swift kick in the butt, and some accountability wouldn't hurt either. That's why I didn't hesitate to join this team in hopes that it would encourage me enough to get the ball rolling. Just like with my finances, all I need is to get the ball rolling. Once that happens I am a machine and can't be stopped.
I am looking at this as a long-term process but will be taking it one day, week, and month at a time. This contest lasts 3 months but I fully intend on coming up with a master plan to continue what ever I start, and my wife is fully on board with this plan. We are going to do it together and we are going to take full advantage of this incentive.
Adam Baker, from Man Vs Debt recently wrote a post titled, Getting Paid to Lose Weight with HealthyWage, and I was a bit shocked at some of the negativity the post seemed to unravel from some of the folks leaving comments. Is it not a good thing to lose weight and be healthy, NO MATTER how you get to that point? Notice I said "and be healthy", so I fully understand the issues with speedy weight loss done with magic pills, starvation, and fad diets. So what's the issue with joining something that will help me get the ball rolling? I don't see a problem with it at all unless of course I forget the ultimate goals I am looking to accomplish here, and return back to my old unhealthy ways.
What do I want to accomplish?
Lose weight (duh) 😀
Lower my sodium intake
Drink more water than any other beverage
Get off of my medication (blood pressure and cholesterol)
Severely limit my sugar intake
Eat more fresh fruit and veggies
Eat for nutrition rather than pleasure or comfort
Exercise daily (even if for only 15-20 minutes)
Replace diet soda with decaffeinated unsweetened tea
Avoid fried foods COMPLETELY
Eat more chicken, fish (especially salmon), turkey
Oh and I want to win $10,000 too. 😉
I have read many books on nutrition and weight loss. If you went by the number of books I have read or counted the number of books on CD that I have devoured, you'd think I was an expert. I could be, but I have failed numerous times on the actual application of what I have learned. My problem is more about behavior than it is knowledge. Sound familiar?
Readers of this blog have heard me go on and on about how getting your finances in order is more about behavior than knowing how to add and subtract. It's about applying what you know to your lifestyle and for me, that is the part I struggle with. I tend to let time beat me into submission and when you feel you are out of time, convenience steps in and rules the day.
I have mastered my budget! I have mastered changing my financial habits! I have even mastered and sent my debt packing enthusiastically! How did I do all of that?
I-N-T-E-N-S-I-T-Y!!
Some people go on and on about how you have to give yourself a break. "Don't be too hard on yourself" they say. In my world that's like telling someone who needs to stop drinking cold turkey to just cut back. That doesn't work for me. When I quit smoking—cold turkey. The times I have actually lost weight—cold turkey. Anything that I have ever stopped doing I did it cold turkey. I'll worry about control and moderation once I have my habits under control. The main thing I need to focus on AFTER I get the ball rolling, is give 500% to the process of sticking to my plan. I am going to eat intensity and crap results! (that sounds like something Rocky's trainer Mickey would say doesn't it?)
My intensity was a beast when we started this money thing, and I need to transfer THAT SAME INTENSITY to the process of losing weight. If I could just lose and keep off this undesirable weight, I know my life would be so much more exciting. There is nothing fun about being overweight.
I remember how I felt when I quit smoking cigarettes. AMAZING!!
I remember how I felt when I took control of my money. FREE!!
I remember how I felt when I lost 150 pounds. INCREDIBLE!!

I remember how I felt when we became debt free. LIKE A SUPER-HERO!!
So to wrap this up, I want you to know that I fully intend on accomplishing this goal. I will definitely keep you posted on my progress by writing an update post once about every two weeks. I have tried my very best to be an example to my children with my finances and other aspects of life, but now I need to be the example in health and fitness. I feel if I don't do it now my children will struggle with this issue for most of their life. Fortunately for me, I have not always been overweight so I don't know what it is like to go through school dealing with the bullies of obese children, nor do I wish for my children to have to. I do know that kids are cruel and that my children are following in my footsteps. I need to give them some well-grounded footsteps to follow.
My "official" weigh-in is today at 1:00 EST!
Wish me luck…I really and truly need ALL OF THE SUPPORT you can give! Please give me a shout out in the comments section to let me know you are with me!
UPDATE: Enemy of Fat has just been REBORN! You can also follow me on Twitter. I will be sharing updates here on Enemy of Debt but if you would like to follow my journey more closely this is where you can do so. AGAIN, THANK YOU so much for the support!