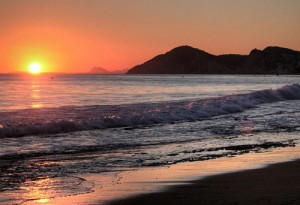 Visiting a sun-drenched beach is ideal for getting away from everyday life. It offers the chance to relax in beautiful surroundings, enjoy some sunbathing, and try some fun activities. The cost of a beach holiday makes it suitable for anyone and the following tips are some ways to enjoy an even more affordable time.
Choose your Location Wisely
Popular destinations can have price competition that lowers the costs of flights, accommodation, and attractions. Benidorm, Spain holidays 2014 are ideal for beach lovers who want to enjoy fun and exciting beach vacations that are competitively priced. Many low cost airlines fly to this destination and there is an abundance of budget accommodation to choose from. It is also possible to find cheap dining and attractions in Benidorm. This makes it an affordable destination that also happens to be one of the best beach resorts in Europe.
Accommodation
While an oceanfront hotel will provide the best views, it is not necessarily the most affordable option for staying at the beach. You might end up paying a premium for the view and it can be cheaper to consider a hotel a little further back from the beach. The sights out the window might not be as spectacular as staying right on the oceanfront, but the cheaper price is a way to save money.
Dining
Eating in restaurants can quickly make a big hole in your budget, but there are ways to avoid this while on vacation. Renting a beach apartment can be just as affordable as a hotel room and house exchanges can save even more money. Staying in a vacation house or apartment provides access to a kitchen where you can cook your own meals. It also allows you to make packed lunches to take to the beach so you can avoid eating out. In addition to all these, they affordably priced; as such, you don't have to worry about going overboard when it comes to your budget.
Consider All-Inclusive
Many beach resorts offer all-inclusive deals that provide flights, accommodation, dining, and other perks in one cost. The deals can be affordable and it is a simple way to know the exact budget for a vacation so you can avoid running up costly extras for food, drinks, and other purchases while there.
A beach holiday is a great way to relax in the sunshine and forget about the stresses of normal life. The tips above provide some ideas for doing this on a budget. Take them on board for an enjoyable vacation at a fantastic cost.
(Photo by David Sanz)