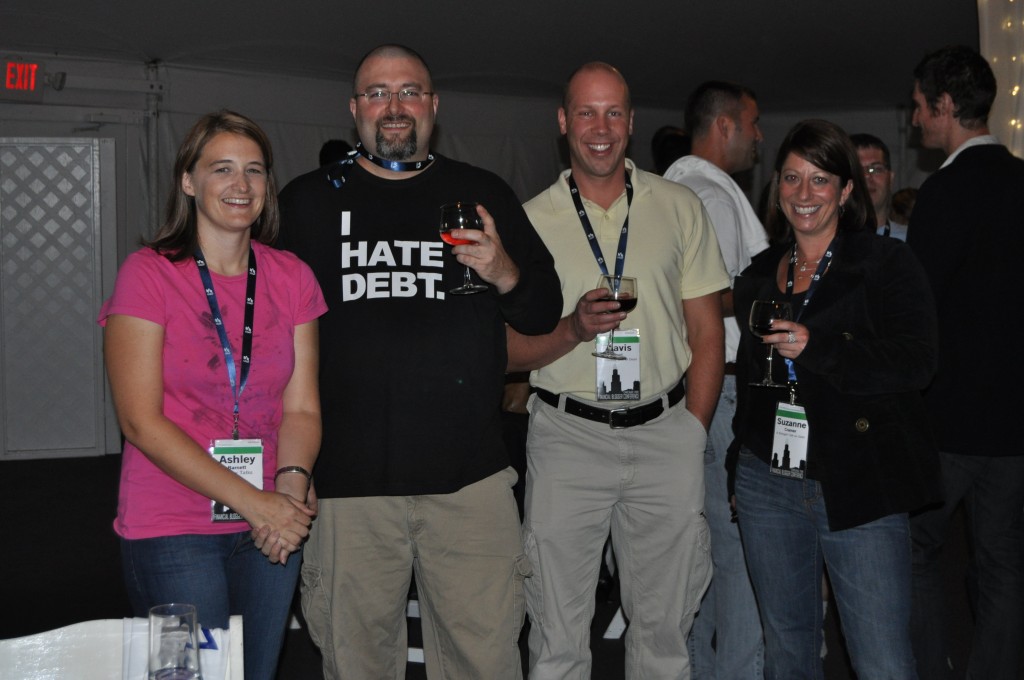 As many of you know, this past weekend I attended the Financial Blogger Conference in Chicago. The atmosphere was amazing and I learned so much about what I should be doing better to build the Enemy of Debt community. I won't get into the details of the conference here, but if you are interested in seeing just how awesome it was simply sign on to Twitter and search for the hashtag #fincon11.
I will say this though. Meeting most of Team EOD in the flesh was absolutely awesome! I am so lucky to have such talented writers contributing to my vision here at Enemy of Debt. The only guy I'm still waiting impatiently to meet is Clair but I'm sure it will eventually happen. To Travis, Suzanne, Paul, Ashley, & Jessica; I really enjoyed the entire weekend and you guys played a major role in helping make that possible. Here's to lasting friendships! 😀
Now I want to boldly go in a new direction with what I've learned by asking you one simple question.
What are your biggest challenges with paying off debt?
Paying off debt is a difficult journey and the one thing I want to do here on Enemy of Debt is to help you as much as I can. Perhaps the most important piece of information I learned at the conference was that I need to focus on YOU and write about the things that matter the most to you as you work towards becoming debt free.
I am not unsatisfied with what I have done in the past but I would be a fool to say that there is no room for improvement. After returning from the conference I took a peek into my archives to see what resonated with the readers the most, what received the largest response, and more importantly what inspired you the most. It didn't take me long to realize that the articles that were about my own struggles seemed to inspire the most amount of feedback.
An article I wrote last year called No Restaurants in November was a complete success because not only did I build my readership because of that challenge, many of you emailed me to let me know how much of an impact that challenge had on your life. Some admitted to never having even thought about how much they went out to eat while others claimed the amount of savings they experienced (even though they may not have done the challenge perfectly) helped them pay off more debt than they would have otherwise paid down.
What I like most about what I've done up to this point on Enemy of Debt is mostly related to articles that ask you to do something. I like action steps and try to implement them whenever I can but one thing I noticed was that I seemed to focus (a little too much) on why you were in debt. I do think it's important to know why so you can address where to go from there but I am going to make it a point to open up with the possible problem or reasons but then focus more on the steps needed to move forward.
The one thing I don't want to do is sound arrogant by always beating you up about why you are in debt. For the record, that has never been my intention and I think most of you know that, but I can definitely see how some might walk away from the computer feeling like a failure. My ultimate goal here is to build you up, empower you,  and to make you believe in yourself so that your debt free journey doesn't feel impossible.
Becoming debt free is more than possible but one thing I've realized is your debt free journey might not look like my debt free journey. During a conversation with Ninja from Punch Debt in the Face and Suzanne from CareOne, we all agreed that there is more than one way to skin a cat. Ninja pointed out (as a fellow enemy of cats), that it wasn't important how you do it, just that you do it…literally.  Ninja has the best sense of humor! I hope you have a sense of humor too. I'm not going to really skin any cats but that doesn't mean I have to like them either. 😀
Anyway, expect Enemy of Debt to go through some changes in the near future. My goal has always been the same — to make Enemy of Debt the best debt free motivational tool around — so now it's time to put some of what I learned from the awesome speakers at FINCON11 into action.
In order for me to start that process I need to know how I can best help you reach your financial goals:
What are your biggest challenges with paying off debt?
Let me know in the comments section and I will develop articles based on your answers. Feel free to also include challenges with managing your money or personal finance in general. I'll do my best to address it all. And lastly, thanks for reading Enemy of Debt and I sincerely look forward to building the community and creating a powerful resource for you all.