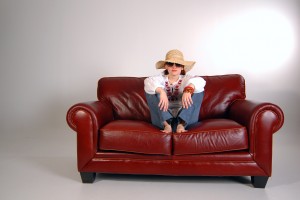 What motivates change?
Think back to all the times you were motivated into action and try to remember what it was that triggered that response. I'd be willing to bet that most of the time the changes were made in order to solve a problem.
It could have been to lose weight because of a concerning doctor visit or to get out of debt after looking at a credit card statement.
Our desire to solve a problem motivates us into action so we give it our "all" until our stress levels reach a tolerable level and we no longer feel burdened. The problem with this approach is that it rarely leads to lasting change. It's a cycle and one I have found myself numerous times before.
The Cycle
Emotional conflict leads you to act.
Because you've acted, you feel better — even if the situation hasn't changed much.
Feeling better takes the pressure off, lessening the emotional conflict.
Less emotional conflict means there's less reason to continue doing the things that reduced the conflict in the first place.
Since you feel better, you no longer feel a pressing need to follow through on your actions.
And the original behavior returns.
Does this cycle look familiar to you?
How many times have you acted because something was causing you stress?
This reminds me so much of the New Year's resolutions people set each and every year. Think about what the gym looks like and how easy it is to find a machine in December. As soon as January 1st arrives though the gym is packed and it's no longer as easy to get your workout on. You may even have trouble finding a parking spot.
Then two to four weeks into the new year, things begin to return to normal again which means our old behaviors return as well.
No problem was really fixed but we start to feel better because we did something about "the problem" — even if there weren't any real results. At this point it becomes more about the absence of emotional conflict — not that we've actually solved our problem — hence the return to your old ways.
The reason for this is because most resolutions are made with solving a problem in mind. We should instead try to focus on what outcome we want to create for ourselves.
Problem-Oriented Motivation versus Outcome-Oriented Motivation
Problem-oriented motivation works briefly until the problem seems "fixed" or until you fail — forcing you to stop whatever it is you're trying to do. This the culmination of "the cycle".
Outcome-oriented motivation has you focus on what you want to create for yourself giving you a longer term goal to strive for and a better chance of reaching it. This method bypasses the cycle allowing you to get the results you really want because you are motivated by what you want — not by what you don't want.
For me, losing weight has definitely been a problem-oriented approach. I have started program after program over the years because I didn't like how I looked, and every time I started to feel a little less awful about how I looked or made some progress what did I do? I went right back to my old ways and behaviors just as the cycle says I would.
Forget about looking for motivation by solving problems and instead try to create purposeful outcomes.
What's Your Motivation?
So are you working hard to curb your spending, solve your debt problems OR are you working to create wealth and financial fitness in your life?
Your answer to that question could keep you from fighting an endless battle with yourself.