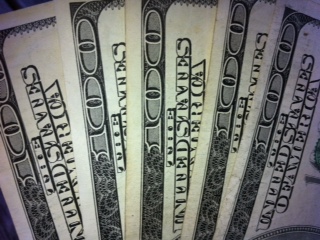 If you've accepted Brad's challenge for No Restaurants in November by the end of the month will have saved up a sum of money. Last year, Brad saved $524.25 during the 2010 version of No Restaurant Month. Your savings will depend on how much you make and then spend at restaurants. When November ends, what should you do with the money you saved?
Pay down your debt!
First, if you have debt, use your November savings to reduce your outstanding debts, particularly the higher interest rate credit cards. You might think about what those balances represent and, if it's financing dinner, you may want to extend No Restaurant November to December!
Build an Emergency Fund
If you have successfully paid down you debt, you need an emergency fund. Brad has discussed his experience in building a $10,000 emergency fund here at Enemy of Debt in his post Day 1 – No Restaurants in November 2011 – Let the Savings Begin! In my opinion, you should have an emergency fund representing at least 6 months of your net income. If you get paid twice a month, multiply your take-home pay times 12. If you look over at your savings account and it has less than the amount you just calculated, deposit your November savings into this emergency fund.
Invest
For those of you who have no debt and a fully funded emergency fund, add your restaurant savings to your investment account. If you do not have an investment account, look for my columns in November. Each will discuss various alternatives for your investments including the do-it-yourself method, working with a broker, and working with a financial planner or investment advisor.
Conclusion
Whatever stage you are in the debt cycle, always participate in your company's 401k or similar retirement plan. This retirement plan is a long-term account so you should be heavily weighted towards equities, aka stock market investments, unless you're within 10 years of retirement. If you're approaching retirement, you will still need equity investments. Life does not end the day you retire. With medical advances, life expectancy for men and women is above the age of 80! Equities are the growth engine of an investment portfolio. Maybe I'll expand on this concept in a future post!
As always, remember, money is not your life!
photo credit: Paul Puckett