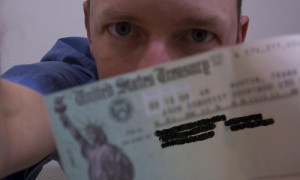 If you are one of the millions of Americans slated to receive a tax refund this year, why not make your refund work for you? Of course you will be tempted to splurge on a vacation, start home renovations or maybe even buy something frivolous, but why not use it to improve your financial situation.
If you are struggling with debt, have little to no emergency fund, or haven't even begun to think about retirement those refund dollars could make a big difference. Reducing your debt and preparing for the "what if" are a great way to reduce daily stress and will point you in the right direction for reaching your financial goals.
Knockout Your Debt
Paying off even one of your credit cards in one lump sum can make a huge difference in how much you'll end up paying long-term. To see just how much, enter the amount of your debt, your annual percentage rate, and the amount you usually pay each month in this Credit Card Payment Calculator. You may be shocked when you see the results.
For example, with an average interest rate of 18.75% and assuming you make minimum payments of $10 or 4% (whichever is higher), eliminating $500 of credit card debt will save you $230 in interest over the 5 years it would have taken you to pay off the debt with minimum payments. As a return on investment, that's a 46% profit!
After you've paid off your credit card, share your success with others! Visit the Debt Movement Community to share your story. Bragging about being debt free can be just as exciting as money spent on something frivolous.
Invest In Your Future
If your debt is under control, or even if it isn't investing in your future is a wise choice. The beauty of investing is time. Time allows your money to grow and compound. Even a little invested money can make difference years down the road.
For example, $500 invested at an average annual rate of 8% will be worth $745 in five years, $1,110 in 10 years, and $2,463 in 20 years, and $5,468 in 30 years.
So if time is on your side, using your refund to invest is a painless way to spend your "found" money.
Get Rewarded
If you apply your tax refund towards a tax-deductible investment, you can earn even more money!
For example, if you invest in a 401(k), your $500 tax refund could generate an additional refund of $125. That's a return on investment of 25% .
Then you can use the $125 refund to pay off a debt or even invest that too.
Next Year Keep Your Money
You can reap the rewards of your hard earned paycheck before tax time by making sure you don't get a refund next year. If you are receiving a refund each year the government is actually the one earning interest on your money.
You can arrange to have less tax deducted from your paychecks so you can enjoy your "refund" every time you get paid. Of course it won't be in one lump sum, but can still be used the same way; to aggressively pay down your debt and invest in your future.
To keep yourself on track consider having savings automatically deducted from your paycheck and funneled to the investment of your choice. Or, set up an account specifically for debt payments to keep you from spending your refund.
Are you getting a refund this year? If so, what are your plans for it?