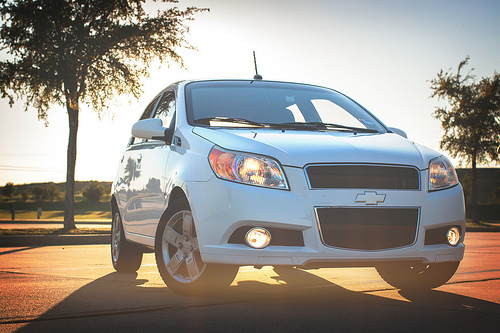 The following is a guest post from Crystal at Budgeting in the Fun Stuff, where she covers spending, saving, and budgeting for fun along the way.
———-
I drive a crappy car with no upgrades at all, although I think it did have a Xzilon interior treatment before it left the dealership.  I plan to keep driving my car for at least another couple of years.
Buying My Car – Xzilon Not Included
My car hunt started right after college in 2005 since I needed to give back my parents' extra car.  I had a really awful experience with a used car early in college, so I was on the prowl for something brand new and super cheap.  I looked around online and ended up targeting the 2005 Chevrolet Aveo.  It was inexpensive compared to other new cars, and I had liked my parents' Chevy Cavalier.
Since I knew what I wanted and what I was willing to pay, I stopped at a Chevy dealer on my way home from work.  I test drove an Aveo and decided it was fine.  The catch was that I wanted the cheapest car I could get – a manual transmission with air conditioning.  I didn't want any other upgrades, not even one of the Xzilon Appearance Packages.
The sales guy was able to find me a super simple 2005 manual Aveo with air conditioning.  It was also the best color that they offered (blue).  It had a wash with Xzilon products after its drive up from the beach dealership that it was living at.  It also had one, solitary upgrade – a pin stripe that they threw in for free.
I ended up paying $11,200 and got 5 year financing.  I paid it off early in 2007 and haven't had a car payment since then (although I do make payments to myself so that I can pay for my next car in cash).  Let's see how the car's been holding up.
My Car in 2013 – Xzilon Washes and All
An Aveo is not the same as a Cavalier.  It isn't as fun to drive, it doesn't look as cool, and it isn't even made of the same quality of materials.  But overall, I am satisfied.  I don't drive much at all and the car is holding up enough for me.  The paint could be a bit brighter if I had paid for the Xzilon protection, but c'est la vie.  My mechanic assures me that my car would be dead now for anyone else but me.  That says a lot.
In 2006, the thermostat housing (the part that is near the engine and keeps the radiator fluid contained) split in half while I was driving home.  They made this critical part out of plastic!  You know, because plastic is so useful next to super hot engines…
In 2007, a few belts wore out faster than expected.  It also started leaking out about an inch of brake fluid every 6 months, but my mechanic simply started adding a little brake fluid whenever I was in for an oil change.
Now in 2013, the brake fluid is leaking out about an inch every month.  But $20 of brake fluid from Walmart every year is still cheaper than having my clutch system looked at officially.  I also splurge about once a year on a car wash with Xzilon.
I have driven a grand total of 57,000 miles in 8 years and realistically expect to get about 2-3 more years out of this cheap, little car.  Could I have afforded a slightly better used or new vehicle back in 2005 that would be able to last longer than 70,000 miles really easily?  Probably.  But hindsight is always 20/20.  Overall, this car cost me about $13,000 with interest and another $700 in abnormal mechanic visits.  I still consider that a win and will continue to drive my not-pimped car until it won't go anymore (with more Xzilon splurges to boot).   Yay for car debt freedom!
——
Photo by dallashangerphoto