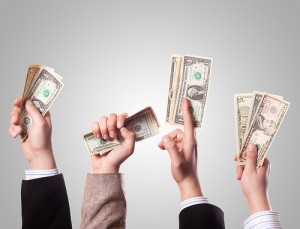 Have you heard about someone with money problems who suddenly came into some amount of money, only to find themselves broke again later? I believe this occurs because of one simple financial truth: You don't solve money problems with money.
I'm telling you this as someone who paid off $30,000 of debt in 1 1/2 years.Yes, I had a lot of debt. I worked two jobs in order to pay it all off. However, it was not simply the money that eliminated the debt. It was a change in me. I changed my goals, my spending patterns, and my savings patterns.
I changed what my family did for fun, how we ate, who we associated with, and where we lived. Looking back, we changed almost everything. The first think we changed, though was our minds.
Our path to becoming debt free began with a resolution to want something different. We didn't come into money which solved our money problems. We changed our minds and our patterns and created the money flow that would eventually pay down the debt.
If you are telling yourself that your life will be so much better when you have some money, you are probably not being honest with yourself.
You likely have at least some money now. Sure, you may need to make more money to get out of debt, but it's what you do with that money and the personal changes  you make that will help you solve your money problems. If you don't change, your situation won't change.
If I say, "If only I had X number of dollars. . ." I am putting myself in a position of helplessness. The empowered approach is to start with myself. What can I do to change my situation? Making more money might be part of it, but it isn't all of it. Even if I don't have a very high paying job, it is likely that within my lifetime I will easily make a million dollars. (For example, if I work 50 years and make $20,000/year 1,000,000 has passed through my hands in my lifetime.)
What are you going to do with your million? Are you powerless to money or are you empowered when handling money? Will money change your situation or will you change your situation?