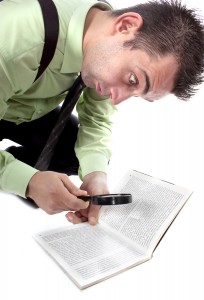 If I received a quarter for every time someone told me I "needed" a credit score I would be super rich right now. There are many myths surrounding the credit score and believe it or not, it's the financial world itself that continues to spread these myths. Ask any educated finance graduate if you need a credit score and you'll most likely hear a "default" answer of ABSOLUTELY.
Ask them why you need a score and not only are you likely to get an evil eye roll, the next words out of their mouth will probably be…ARE YOU KIDDING ME?
The fact that so many people believe that a good credit score is essential doesn't surprise me. Take a look at any  high school curriculum and you'll find that financial literacy classes are completely non-existent. Kind of ironic since it's something we use regardless of socioeconomic status, college education, or income level.
Instead people take advice from financial planners and expect that advice to be accurate. And it's not that these planners and financial "experts" are deliberately trying to deceive you; most of them believe it themselves.
The Truth About Your Debt Score
A credit score is often misunderstood to be a measure of financial responsibility but that couldn't be further from the truth. It is more accurately defined as a measure of how much you borrow and pay back debt, but over the years has morphed into something much bigger. If it was a measurement of financial responsibility then your income, your debt to income ratio, employment history, and recurring bill payments would also be a part of that score. But they're not.
Your FICO score is solely based on the following criteria:
35% is based on debt history
30% is based on debt level
15% is based on length of time you've been in debt
10% is based on new debt
10% is based on type of debt
Is debt a complete picture of your financial responsibility? Nope.
What it does tell creditors is how likely you are to pay back the money that you borrow. That's all it does. Nothing more nothing less.
For the record I'm not saying that this type of system should not be used to determine credit worthiness of those who wish to enter into financial slavery. It is great for measuring someone's ability to borrow and pay back money, but what it isn't great for is measuring total financial wellness and it most certainly shouldn't effect your ability to otherwise prove you're not a financial risk.
Building Your Score
Building your credit score is basically building your debt load and maintaining it for the rest of your life. If you stop borrowing money, your score WILL eventually drop off the map.
The mistake too many people make is by managing their entire life around their FICO score and in my humble opinion, it's why Americans have an astronomical level of consumer debt. People worship their FICO score as if it were the ultimate human accomplishment. Suze Orman is the queen of credit score pimps but she doesn't seem to be as interested in your financial well-being as she is in making a buck and unfortunately many people follow her advice.
Something I have said many times on this blog is that you should responsibly manage your money regardless of what your credit score will do. If you decide to pay off and close a credit card but change your mind because of what your credit score will d0, that is ridiculous. My ultimate goal is to lower my credit score because I refuse to participate in a system that tells me I should borrow money to be seen as financially responsible.
I'll be okay.
Pay your bills, save money, and eliminate your burdensome debt and you will be much better off than if you go into debt and stay in debt to build your score.
Can You Get a Mortgage Without a Credit Score?
One of the biggest myths — I believe — that cause a majority of people to enter the "build my credit score marathon of debt" is the one that says you cannot get a mortgage without one. Mortgages have not always been given based on debt scores because those scores have not always been around.
Once upon a time, in a land FAR FAR AWAY, a thing called manual underwriting was used to measure ones ability to pay back a mortgage loan. All mortgages are underwritten but manual underwriting is when the loan officer bases your ability to pay back the loan on real-life data that you provide even if you are denied because of your credit score.
This doesn't mean that if you've not been responsible paying back your debts this is your free ride around your score. In this post I am trying to debunk the myth that people who have decided not to borrow money — and their credit score drops as a result — cannot get a mortgage. It's just not true.
If you can provide 20% down, show extensive employment history, sufficient income, a saving account (with savings in it), and documentation that you have consistently paid your bills on time for 18-24 months — you are a great candidate for manual underwriting.
You will not be able to just waltz into any bank and expect to be given this option.  You'll have to do some research to find one that does but it is possible. This isn't just an issue in the United States either. While they don't use FICO in a country like Australia, they still use some form of credit scoring but they also have many companies who specialize in loans for people with bad credit.

So What Does All This Mean?
In short, you might want to reconsider what it means to "build your credit score". Ask yourself what are you REALLY doing?
Do you want financial freedom or are you looking for the ability to borrow money to buy the things in life you are unwilling to save for?
Want to go on vacation? Save for it.
Want to get a new car? Save for it.
Want a bigger house? Save for it.
Want to eat out more? Budget for it.
Want Starbucks? Budget for it.
Want to get out of debt?
Ignore what your credit score does while you're paying off debt! If it's not what people would normally do you are most likely headed in the right direction.
We've been rejecting the idea of credit scores since 2008 and our life is much better for it. Not yet convinced? Check out this wonderful post about a lady who lived without a score for 40+ years. It proves that your credit score doesn't evaluate your financial responsibility, it only proves you like borrowing money.