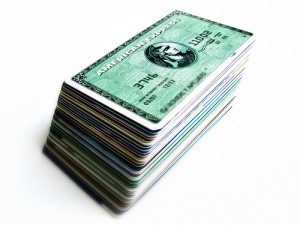 Have you ever taken a position on credit cards one way or the other? I have, and to only say I was passionate about my position, would be an understatement. Just ask J. Money!
I must start out by saying that some of you are going to feel as if I have lost my mind, and the rest of you are just going to be shocked completely about what I am about to say. Not because it doesn't make sense, but because it is coming from ME. 😀
I am no longer the sworn enemy of credit cards. Yes, you read that right! I have softened my position on credit cards completely. I actually figured it out about a month ago, and only a few bloggers have had the opportunity to hear my thoughts on this.
Now I wanted to share my thoughts with YOU, my awesome debt-hating readers.
It's not that I think that credit cards are any less dangerous than I did before, I have just come to the conclusion that credit cards are only that dangerous to a specific group of people. Yep you guessed it—people living beyond their means and swamped with debt. As I have accomplished and evolved more in my financial plan, I have come to realize that there are different levels of control, and financial responsibility. Depending on where you are in the process will determine whether or not you have the ability or the inability to use credit cards responsibly.
Based on my own experience, I believe that your mental state of mind regarding debt and money in general, determines whether or not having a credit card is a good or bad idea.
Your State of Mind is a Terrible Thing to Ignore
The Debt Mindset – This is the person that continuously month after month spends more than they make without ever blinking twice. They live on credit cards and have no idea how close they are to complete financial destruction. There's always a reason that they have to spend more than they make and they pay very little attention to the details of their financial situation. Unfortunately, this is most of America, and it explains why so many people are struggling due to the recession. In this state of mind this person is less likely to admit that they are the reason times are tough. Yeah, you didn't know you were going to lose your job, but that's precisely why you should have prepared yourself for what life throws your way. There is no such thing as complete job security. Credit cards are WAY TOO risky for this person!
The Reality Mindset – This state of mind comes about because of a life-changing experience, like a job loss, health problems etc. It is also possible to just wake up one day and realize that your reality is not what you thought it to be, and the decision is made to make a real change. I would like to think that most people that are given a taste of reality realize that it is imperative for them to change their ways for good, but history shows us that people have a very short-term memory. They battle through the tough times, and then when things start to get better they go right back to their destructive ways. This state of mind is completely temporary though because when you are faced with reality, you have two choices. Do what you've already been doing with money and the debt mindset sets back in, OR you decide that enough is enough, it's time to transform. Credit cards are STILL TOO risky for this person!
The Transformation Mindset – This is a person that is truly sick and tired of being sick and tired and they aren't going to take it anymore! Spending more than they make comes to a complete stop and new habits start to emerge. Their attitude is completely different! This is where I would say we were at the end of 2007, right before we made the decision to get out of debt for good. One of the only New Years Resolutions that we have ever made that eventually saw the light of success. A person that is truly in this state of mind has way less chance of ever returning to their old ways, but it doesn't mean they are home free. They have seen the light and their mission is to completely clean things up, but depending on their resolve risk is still in the air. That's why this person is still a risk and not yet ready to handle credit cards either. Credit Cards are risky enough for this person to avoid until they are 100% sure they have changed.
The Secure Mindset – This is the person who has really fought hard to turn things around and the results are beginning to show. This person likely has no debt whatsoever (except for maybe a house), has a growing savings in place and things are really looking up. This is where we are now, and why I have been able to give credit cards a break from the guillotine. We have no debt, $7,100 in savings, and we are truly confident that even if we did have credit cards—which we do not—we have absolute control over our financial behaviors. This person has walked the walk and has developed an awareness when it comes to their financial situation. This person is no longer a spend-more-than-they-make risk, and could probably handle having a credit card or two with no problem.
Are My Observations Absolute?
Of course not, because there are always exceptions to the rule, but I think there truly are stages of financial responsibility. This is completely based on how I viewed the credit card issue, and where I felt I was at different stages of the process. Perhaps there are some that should avoid credit cards at all costs no matter how secure they see themselves. Sometimes self-control and discipline cannot be transformed. For everyone else, make sure you handle your credit cards responsibly if you are in a stable situation and feel you can handle them. As for me, we have not run out to apply for credit cards and we probably won't. Where we are right now we just don't see the need to do so. Two plus years without them and we are still alive and kicking, so we are just going to keep doing our thing. To be crystal clear though, I am adamantly against credit cards unless they are paid off each month in full.
Many of you know how I have felt, and I have even done friendly battle with some over this issue. Budgets Are Sexy, & Ask Mr. Credit Card immediately come to mind. 😉
What stage are you in? According to where you were, and where you are today, would you say I am on to something or am I completely off my rocker? Let me know by sharing your thoughts in the comment section.