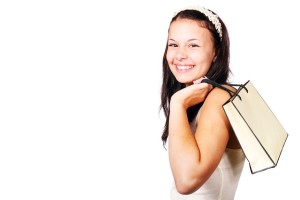 I had a scary situation with my teenaged daughter over the weekend with what happened during a shopping trip to the mall with her friends. It was touch and go for a few days, but I'm now confident that everything is going to be just fine.
One of her friends asked her to go to the mall shopping on Friday afternoon. Between her allowance and Christmas gifts she had amassed a tidy sum of money.  She thought a shopping trip to get some new clothes would be a fun way to spend time with her friend.
When she returned home from the mall, she told us a frightening story.
She excitedly showed her mother and I the things that she had purchased, then went on to tell us that there was another shirt she had seen that she liked but she didn't bring enough money along to purchase it. She also told us that she had wanted to get some new mascara, but again, she had to wait because she didn't bring enough money with her.
As a parent, I was almost sick with worry about my daughter.
That was three days ago, and I've been watching her closely. This morning, as she bounced her way out the door to school I'm happy to report that I think despite not getting everything she wanted, I sincerely believe she is going to be OK.
Despite not getting the shirt she had liked, she was able to dress herself appropriately each and every day with clothes she already had. It appears that she has more than enough clothes in her closet.
Despite not getting new mascara, she came down the stairs today with her usual light application of makeup. It seems her old mascara wasn't quite gone yet.
Knowing that she is going to be OK is a huge relief.
The thing that completely blew my mind is that it wasn't that my daughter didn't have the money to purchase these items, she consciously chose to limit herself. She set a spending limit for her shopping trip and only took along that much cash. She didn't want to leave herself broke in case another opportunity arose that would require some funds. She deliberately set a spending limit on herself, resulting in having to leave things she wanted on the store shelves.
Limiting spending? Thinking ahead? Depriving themselves from things they want? Do people actually live like this?
If you haven't figured it out yet, this post is rich with sarcasm. It may sound absurd, but sometimes it's worth reminding ourselves that we will be OK if we can't buy everything we want. Life will go on if we set spending limits on ourselves, live within our means, and keep some money in our pockets for potential future needs.
The next time you're standing in a store aisle contemplating purchasing something, think of my daughter and how she survived not buying everything she wanted. You will too.