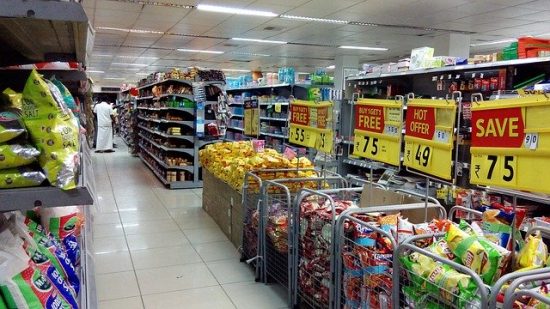 People are loving grocery pickup services. Many major grocery retailers offer it, each giving it their own name, but the concept is the same. Customers pick the grocery products they want online and with a click of a button someone at the store rolls out a cart and collects the items for you. You can pick it up usually for free, or for a small price have it delivered to your house. People adore it. I have friends that say they will never go back to doing the grocery shopping themselves. I just shake my head.
I'll never, ever have someone do my grocery shopping for me for the following five reasons:
Coupon Restrictions
Some shopping services restrict your ability to use coupons. For example, Walmart's service does not allow customers to use manufacturer's coupons. Any program that limits my ability to save money has a huge strike against it.
Produce Selection
As are most people, I'm very finicky about my produce. I want the greenest bag of shredded lettuce, smaller bananas with just a certain green to yellow ratio, and I'll never accept an apple with a bruise. I have zero confidence someone else will pick these and other product items exactly how I want them.
Substitutions
Retailers may have different substitution policies but the basic premise goes like this. If you select an item that is found to be out of stock, the shopper will select a substitute product. When you pick up your order (or in some cases beforehand), you have a chance to accept or reject the substitution. If you accept it, you get that product. Refuse it and the item will be put back on the shelf.
If I refuse a substitution, I may have to go into the store to figure out product I really want. Going  into the store negates one of the reasons grocery pickup is used in the first place.
Real Time Menu Changes
Sometimes an out of stock item isn't on an island, but used with other ingredients to make a single meal. If the store is out of the spaghetti sauce I want, what am I going to do with the garlic bread, pasta, Parmesan and Italian sausage I bought? That's just money I didn't need to spend. When I'm rolling a cart through the store, this kind of situation would result in spaghetti being taken off the meal list for the week and an alternate being generated. Can't do that with grocery pickup.
Sometimes as I walk through the store, I'll see a featured item, or something else on the shelf that spawns a better and less expensive meal choice. That can never happen with grocery pickup either.
Time Alone
Many people use grocery services as a way to save time. They like just pulling to a special parking spot, having the groceries loaded into their vehicle and driving away. No need to wonder the aisles, no need to corral small children for an hour. For me, however, I find grocery shopping relaxing. Nobody is telling me I need to go anywhere or do anything.
In the end, I'm just not comfortable handing over the responsibility of my family's largest weekly expense to someone else. Buying exactly what I want for the next week is more complicated than simply picking items from a list and hoping for the best. As with everything else with my family finances, I want to be in complete control.
How about you, EOD Nation, do you use grocery shopping pickup or delivery services? What has your experience been?