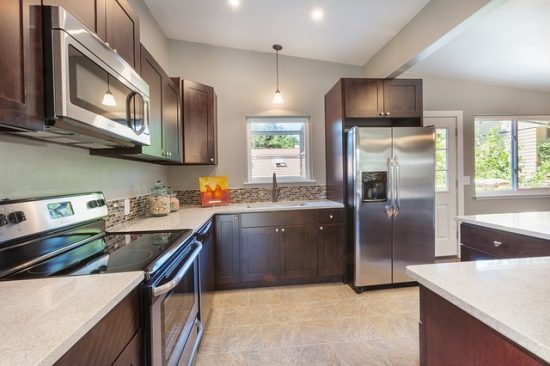 The microwave made a horrible loud buzzing noise, and when the time reached zero the food inside was still cold. My over the range microwave was broken, and not worth fixing. It was time to get a new one. Before going shopping, I needed to research microwaves and know exactly what I wanted. Because if I didn't know what I wanted, a salesperson would likely talk me into buying a model with more features than I'd use, costing more than I wanted to spend.
New microwaves have more bells and whistles than I expected. I knew there were different sizes and watt ratings, but there's also sensory cooking, convection ovens, the ability to work like an air fryer, and more buttons and modes than I would ever know what to do with. The most complicated thing I do with my microwave is heat up a slice of pizza for 35 seconds, or make a bag of popcorn for 2:30. I found the microwave I wanted online for $250, on sale for $170.
I didn't have any questions, but went into the physical store just to see the microwave in person. As I expected, a salesman tried to upsell me a low-profile model with all the bells and whistles, and a price tag over $800. I thanked him for the information, found the microwave I'd seen online and gave it a good look over. I went home, ordered it online, and picked it up when it arrived (they didn't have any in stock) a few days later.
I paid a low price for a new microwave that was exactly what I wanted by following these 5 steps:
Know the dimensions
Know the size of the current appliance as well as the size of the space you have to deal with. This will prevent you from ordering something too big for the space you have.
Research Options
Do online research as to what options are currently available, and how well they work. Talk to someone you know who owns an appliance with these features and find out their opinion of them.
Shop Online
Attempt to find a microwave in your price range with the options you want online. This will save you time in the store, as well as reduce the probability a salesperson will upsell you into something with features you won't use with a price above what you want to pay.
Visit Showroom
Sometimes the look of an appliance is different in person than in an online picture. It's always a good idea to view the product you're thinking of buying to ensure it looks exactly how you want.
Ask Questions Cautiously
Ask the salesperson questions if you have any, but don't let them talk you into buying something that sounds good. Stick to what you know about your appliance use and price range.
There's no reason to rely on a salesperson to guide you towards a new appliance. Their goal is to maximize sales, not to find the perfect appliance for you. The internet allows people to gather information, browse products, and price compare without talking to anyone. If you do enter a physical store, ensure you are well informed, and use the physical visit as validation of a decision you've already made.
How about you, EOD Nation, have you purchased a new appliance recently? Did you do online research or visit a physical showroom?