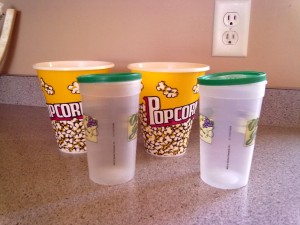 We were operating on a shoestring budget due to overspending during some vacation activities the first half of July. My kids had been interested, and in my daughters case begging, to be go see Ice Age 3 Continental Drift as a family. Going to a movie can be an expensive excursion, especially if you visit the concession stand. Our usual movie going technique is go see the movie as a matinee, when the tickets are $4.50 per person. However, even that was more funds than we felt comfortable shelling out.
With a little creativity, my family of four were able to go to the movie with popcorn and soda for about $5.50 total. Here's how we did it:
Tickets:
A few months ago we had won 4 free movie passes.  The first weekend we contemplated going to the movie, it was too new and passes were not accepted.  However, by waiting one week we were able to use our passes, and get into the movie for free.
Snacks:
We could have been content with just seeing the movie, as movie theater snacks are insanely overpriced. However, my wife came up with a plan that allowed us to get popcorn and soda for all four of us for relatively very little money.
Our 4 movie passes also came with a card good for one free medium popcorn with the purchase of a soft drink. We purchased a single large soda for $4.75 which comes with free refills. My wife also inquired if we could upgrade our medium popcorn to a large by paying the difference. The employee agreed, and allowed us to pay the extra $.75 to get a large. Why would we want a large? Free refills.
(Author's side note:  My wife was so excited about being able to upgrade our popcorn to the "refills for free" size that she walked away from the counter without paying.  This resulted in a "it's funny now" moment of being chased down by the cashier as we were entering the theater)
When our family sat down in our seats, my wife got out the 2 small popcorn bowls and 2 cups with lids that she had brought with her. She didn't try to hide them, in fact she placed them on the counter when she was ordering.  The way we look at it, the size of a large popcorn and soda is built to share. What does it matter if we pass the bucket or cup around, or split it between different containers?  After all, another theater in our town will actually offer small bags in order to better share a large bucket of popcorn.
She filled the bowls with popcorn, and the cups with soda and handed them to our children who were sitting in front of us.  Then, I went an got a refill on the soda, and poked two straws through the lid – one for her, and one for me.  Total cost of the movie, popcorn and soda for our family of four came to $5.50.  We were lucky to have the free passes, but with a little creativity we were able to enjoy a family movie night at the theater, even when on an extremely tight budget.
What extremes have you gone to for entertainment when the budget is really tight?