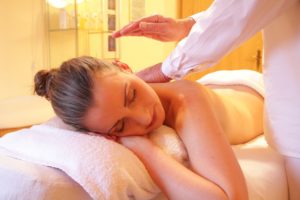 If you are or have been the parent of a teenager, you know they love to hang out with their friends, but finding new, fun and exciting things to do is sometimes a challenge. My daughter enjoys having her friends come to our home, but she's constantly worried that they always do the same thing and tries to come up with ways to make each get together unique. Whenever possible, my wife and I try to find inexpensive ways to help her out and this weekend we had the opportunity to make a sleep over with her friends a night they will remember for a long time.
My daughter's friends had been at our home for an hour when she came down the stairs and said that she and her friends were having a spa and pampering night. She went on to state that they had created a list of things they could use if we happened to be going to a store that evening.
Leg Waxing Strips
The girls specifically asked for this, as they wanted to try waxing their legs instead of shaving them. It was a spa-like treatment, and something that they thought would be fun for them to do together for the first time. My wife and I found a package of 40 strips, at a reasonable price.
Cost: $8.50
Hydrating Facial Masks:
The girls had asked for coconut oil, as they had heard it was good for the skin and hair. All my wife and I could think of was an oily mess that they would all need showers to correct. Instead we found a package of 5 hydrating facial masks. They could each cleanse the facial pores in spa like fashion without smearing themselves with oil.
Cost: $24
Nail Polish:
No spa day or sleepover is complete without newly painted nails. The color and quality of the nail polish really didn't matter much. The act of painting each others nails was a group activity that always seems to be enjoyed.
Cost: $5
Ice Cream:
Once the spa activities concluded, there was only one thing left to do; have dessert. We used our fancy sundae cups to serve the girls ice cream while they watched a movie.
Cost: $3
Total Cost: $40.50
My daughter had a great idea for a fun activity with her friends during a sleepover, but needed a little help with the execution. My wife and I took her idea, ran with it, and enhanced with our own ideas. It did require some funds, but for a relatively inexpensive price my daughter and her friends had a memorable night creating a spa-like experience together.
The majority of the cost was the hydrating facial masks, Maybe you readers have some ideas on things we could have done in place of the masks that would have contributed equally to the spa night experience, but bring down the cost? Or maybe you have some additional low-cost ideas that could be added to future spa nights?