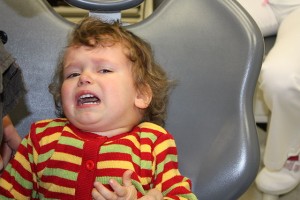 While gathering my things after a workout in the locker room of my health club, I noticed a little boy about 3 years old wanting to go look at the scale.  Each time he wandered towards the scale, his dad would grab the boy and guide him back to the locker area. The man instructed the boy to stay by him as he finished getting dressed after swimming.
The boy would stand near his father for a few seconds, then start walking back towards the scale. The father would again grab him, indicating that the boy could see the scale when he was done getting dressed. This repeated itself several times, each time the boy becoming more insistent that he wanted to see the scale, each time his dad becoming more firm that he stay next to him.
Finally, the threat of not getting ice cream came into play, but the boy headed out once again towards the scale. Dragged back one last time, he was told no ice cream.
The boy instantly threw himself onto the ground in a tantrum for a few seconds, then stopped, and sat on a bench quietly.  A few moments later, forgetting all about the scale, the boy headed towards a group of sinks. The exact scenario was playing out again as I left the locker room.
As I walked through the parking lot to my car, I was thinking about how I was glad that my kids had grown old enough to generally obey me when it came to such simple directions (although with age comes a whole different genre of problems).  It also occurred to me that when it came to my finances, I had acted exactly like that three year old for many years.
Like the young boy, I would see something I wanted.  Had I exercised patience, and saved my money I could have certainly purchased the item eventually. Instead, I determined that waiting was unacceptable and purchased the item with credit.
The bill would come a few weeks later, and I'd promise myself  that was the last thing I'd purchase with a credit card.  But it didn't take long before temptation gave in.
Also, much like the child, my memory was short.  The object of my desire that at the time I just HAD to have, faded in importance quickly. So many items bought with credit quickly ended up unused in the garage, or tucked away in a cupboard or closet.
On to the next "thing."
The boy may, or may not have learned his lesson by being denied ice cream that day. Perhaps it would take him several more incidents before he learned to listen to his father's instructions, but the point is, eventually the boy will grow up and learn that people in authority are meant to be respected and obeyed.
Like the young boy, eventually I too must grow up…..financially. It took something being taken away from me, much like our young man in the story, for me to alter my behavior.  Being on the edge of disaster and having my financial freedom taken away from me has taught the consequences of my actions.
If I can successfully learn my lesson, practice good financial habits, and complete my debt management program I can taste the sweet ice cream of being debt free forever.
How about you? Are you acting your age financially?