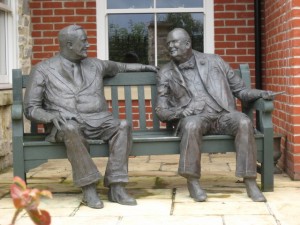 With me sitting on the edge of our bathtub, and my wife brushing her teeth as she prepared for bed we began a very serious budget discussion. We were on day three of a week long visit from our Kentucky friends and were burning through our discretionary funds at an alarming rate. We needed to reign in our spending, and ensure we kept ourselves on budget, or we were going to run out of money fast.
The next day the four of us were planning on going shopping for the supplies needed for Thanksgiving Dinner. As a group, we had already discussed the menu, and there had been an obvious distinction made between what each of the two couples were going to contribute to the meal.
We were concerned, however, that while shopping our friends would suggest the ease of throwing everything in one cart, and splitting the bill in half.  As much as we love them, our friends are not list shoppers. Entering the store, they become what I like to call "grazers." Walking up and down every aisle throwing in anything that looks good. This leads to an unnecessarily high bill, as well a lot of uneaten and wasted food. For us, the result would be a blown budget, and with the current state of our funds, we could not afford for that to happen.
I was adamant that we would maintain separate grocery lists and bills. Vonnie was more than a little skeptical.
When it came time to go shopping, it was suggested that in the interest of time just myself and my friend Justin would run to the store to pick up the needed items. I displayed my list, and our friends started making their own. Suddenly, Justin's wife started adding things to my list because, "she didn't trust Justin to get the right thing." By the time they were done, my list had doubled. Our fears then came true, as she mentioned it would probably be easiest and quickest to put it all in one cart, and just split the bill.
I saw Vonnie's eyes start to well up with tears. I hadn't been clear enough in stating that we were only planning on getting the items on my original list. I had been too embarrassed to say that we were not in a position to keep up with their spending and that the items on the list were all that fit within our budget. As I put on my shoes, I saw Vonnie go up the stairs and head for our room. As Justin and I walked out the door, I heard our bedroom door shut.
I was a huge failure.
As we drove to the grocery store, I knew what I had to do. Our friends know we are enrolled in a debt management program. I explained that we have to budget every single item we purchase. The items on our list were the things that we had budgeted to pick up for Thanksgiving, and that it would cause us some amount of difficulty if we went over that budget.  I requested that we use separate carts, and pay separately.   I told him that conversation was very uncomfortable for me, and thanked him for understanding. He looked at me square in the eyes and said, "You know you don't have to beat around the bush with me. It's fine!"
As we walked around the grocery store he began to spontaneously put items not on his list into the cart.    From oysters to egg nog, and even diarrhea medicine for his toddler. While some of the things were certainly generous of him to pick up and add to the enjoyment of our Thanksgiving, other items were purely personal.  Things I would have paid half of had I not been honest with my friend.
That conversation had indeed been uncomfortable.  But frankly, being in debt is a constant state of uncomfortableness. The only way I'm ever going to successfully eliminate my debt is to continue to have conversations just like that one with my friends, my family, and myself. I just keep reminding myself that just as the conversation and the feelings that accompanied it were temporary, so is my state of debt.  One day my debt will be gone, and so will that feeling of uncomfortableness.
Unfortunately, despite my uncomfortable conversation, I still went over budget on my trip to the grocery store.  By just 43 cents.