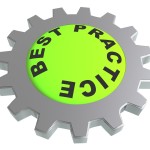 I spent three days last week in a workshop learning advanced concepts of the Agile Methodology. If you're in software or project management you may have heard of Agile as a methodology in which the requirements to achieve a goal are constantly reevaluated, and course corrections made through incremental and iterative work segments.
One of the workshop facilitators stated that she found Agile practices spilling over into her personal life.  As she made that statement, I could feel my eyes roll back into my head. The thought that a project management technique used for complex software development being applied to one's personal life sounded ridiculous. As the workshop went on, however, the same thing happened to me.  I started to of think how Agile practices could be applied to a couple's financial management.
Sprint/Iteration
In Agile a sprint is a unit of time in which a specified amount of work is done. At the beginning of the sprint the team defines what work is to be done, and ensures that the work fits within the length of the sprint given the resources available. Our bimonthly budget cycle fits the definition of a sprint. At the beginning of the cycle, or iteration, my wife and I plan what we plan our spending and ensure that it fits within the available funds.
Epic Stories
At the beginning of any project, a team defines epic stories, or goals. Every couple should have medium and long term financial goals. Work items defined to be accomplished within a sprint should work towards accomplishing these epic stories. From a financial perspective, epic stories could be achieving a certain level of funding for retirement, or a college account for our kids. We should also have ongoing epics for short term goals, such as a family vacation.
Standup/Scrum
A standup, also called a scrum, is a short, daily team meeting in which each team member says what they did yesterday, what they're going to do today, and what is standing in their way from doing their job. These sound a lot like the daily checkpoints my wife and I used to have in the mornings over breakfast where we talked about any checks that were reconciled to our checking account overnight, as well as any spending we had on tap for that day.
Retrospectives
One question that Agile requires team members to constantly ask themselves is, "How can we do better?" Usually this is done during a post sprint retrospective meeting in which the team members discuss what went right, what went wrong, and how they can get better. A team might come up with a long list of things to work on, but they must pick one or two to focus on in the next iteration. Trying to implement too many new things at once may lead to the team doing nothing but working on improvement, leaving no time for actual work. A retrospective at the end of each budget cycle would give my wife and I the chance to reflect on what we did right, and what we could improve upon as we move forward.
Agile practices fit perfectly with managing personal finances. It encourages setting goals as well as creating concrete actions to achieve them. Agile requires constant communication and forces evaluation for incremental improvement. I may have rolled my eyes at the first thought of Agile bleeding into one's personal life, but now it makes perfect sense.
Have you ever heard of Agile before? Have you unknowingly been using Agile practices in the management of your personal finances?