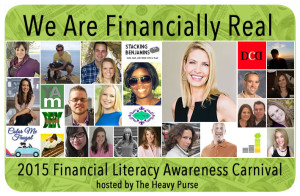 Today's post is one of a network of posts throughout the personal finance blogosphere taking part in the Financial Literacy Awareness Carnival.  The Carnival is being hosted by Shannon at The Heavy Purse honoring April as Financial Literacy Month. Once you finish this post, head over there to check out other great articles linked to by the carnival. Enjoy!
Are you lying to yourself about your finances? Don't be so quick to answer that question, maybe you should think about it a little harder. You will never reach your full financial potential if you're lying to yourself about your finances, so you'd better be sure. How about we examine the different ways you may be lying to yourself, then we can revisit the question.
Setting Unrealistic Spending Expectations
Just because you have a budget doesn't mean you're being real about your spending. At one point I had $100 a week budgeted for groceries, and we exceeded it almost every week. We just weren't being truthful about how much we could reduce our grocery spending. This resulted in having to make frequent budget adjustments to make up for the grocery overages. Eventually we raised our grocery budget to an amount that was more reasonable, and found another item we were able to cut to make our budget whole.
You can cut costs, but you also have to be real about the basic costs of things.
I Can't Cut My Spending
You can't, or you won't?  When Vonnie and I enrolled in our debt management program, it was an iterative process over the course of months before we really came to grips with how much we had to change our lifestyle to fit within our means.  It also amazed us at just how little we could get  by with if we really had to.
If you've fallen on hard times, you have to have a very honest discussion with yourself about what spending is really necessary.
I Can't Increase My Income
We all wish we made more money. Some people stop right there, hoping their boss calls them into their office and gives them a pay raise. Other people go find a better paying job, or a side hustle to kick their income up another notch. For example, you could make sure you get some online trading education.
You can increase your income, if you're willing to put in the effort.
I Can Save For Retirement Later
Retirement always seems like something that is far off on the horizon. It seems like an eternity away, so what's the harm in waiting a few years to start saving? You can certainly do so, if you want to push retirement off as well. Time is a huge factor in determining how much you will have stashed away for your golden years.
If you put off saving for retirement, you may actually be putting off retirement.
I'm Comfortable With My Credit Card Debt
You're paying all your bills each month, including your credit card bills, and still have money left over. You're proud of yourself, thinking you have everything under control. You know you have credit card debt, but since you're making your payments each month you're OK with it. Let's do a little exercise. Add up how much you're paying each month in credit card payments. Now think about what you could do with that money in your pocket instead.
Are you still comfortable with your credit card debt?
It's sometimes hard for us to see things in our life how they really are because we become desensitized to them. We need to hold them up to the mirror and look at their reflection. So what do you think after reading the symptoms of lying to yourself about your finances?
Are you being real about the state of your finances?